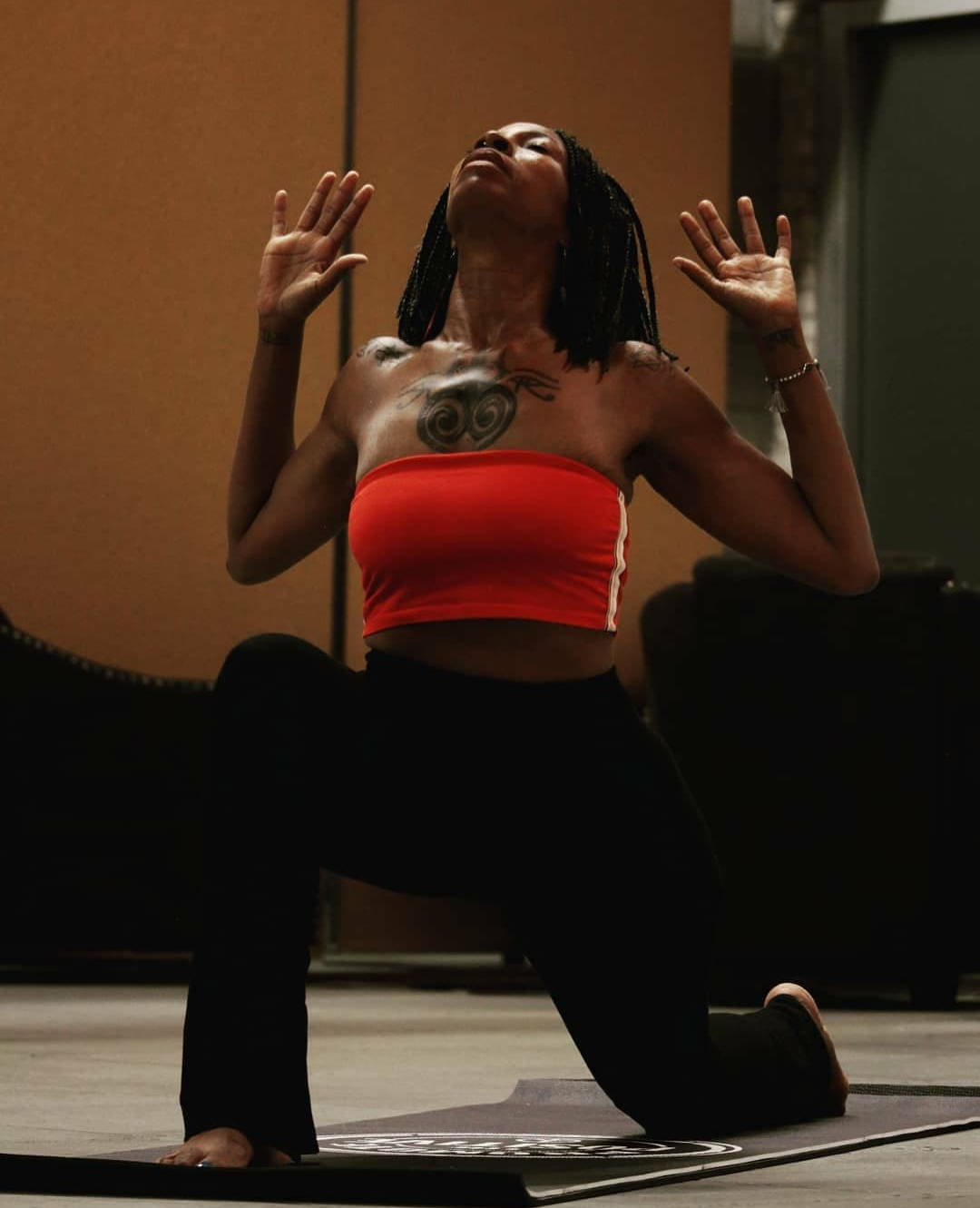 Euda K. Best is a Spiritual Guide, Yoga/Meditation Instructor and Founder of Hella Random Radio, "Where positive energy LIVES." She fell in love with meditation in 2009 certain that the practice cured her of her tendency toward depression. She graduated from and is a member-owner of the nation's first POC owned and operated yoga co-op, The Satya Yoga Cooperative. She believes that we heal the world by healing ourselves. She's playing her part and she's here to help you do the same.
1. How did you get into yoga and meditation? What do these practices mean to you?
I got into yoga and meditation separately and at completely different times in my life. I have taken yoga classes since the 90s and had been interested in yoga teacher training (ytt) for quite some time when I happened upon Lakshmi Nair's Satya Yoga Immersion and Teacher Training for People of Color. She accepted monthly payments for the training which made it the first affordable ytt I knew of. I started the program in Sep or Oct of 2015. I started teaching in Feb 2016 and was compelled to start a daily practice in Feb 2017. After two weeks of 30 minutes of yoga per day my entire disposition had changed. After six months, my entire life changed. I don't practice Asana daily now, but if drop below twice a week I tend to get mean so yoga Asana is one of the foundational tools that help me look at the rigors of life with a good sense of humor.
Meditation came earlier. When I left my corporate job as an engineer in 2008 I found myself depressed with no discernable reason for the depression. Someone suggested meditation and if it didn't save my life it certainly cured my tendency toward depression. I started out just counting my breaths from 1-10 over and over again until I could do so for 5 minutes without getting distracted and finding myself on 100. Then I went into a content-less practice sometimes for several hours a day and within six months I found separation from what I call the "dark voice" of fear and negativity in my mind. I hadn't stopped the chatter of the dark voice (which I now know to be related to, if not the result of, the collective subconscious) but I had risen above it enough to generally distinguish the things it was saying from the truth. In January 2014 I went on a 10 day silent Vipassana meditation and my meditation game leveled up and prepared me for ytt. As an overzealous, competitive and risk taking Aries I think I would have injured myself badly in my early yoga life if I hadn't learned to be present in my body during that Vipassana retreat. Now I still make it a point to sit in silence most days, but I can find a meditative space even as I move briskly through my day. Meditation is my way of connecting to the truth that lives in my heart and finding greater and greater separation from the lies of the "dark voice" and the collective subconscious.
2. You are the founder of Hella Random Radio. What is this podcast about and how can folks tune in?
Hella Random Radio 📻 "Where Positive Energy LIVES" is about good indy and old school music and interviews/stories/readings etc that I think are interesting and can help people heal and remember who they are.
I am on PharcydeTV.com and my favorite space twitch.tv/PharcydeTV Mondays at 11:11am PT, 12:11pm MT, 2:11pm ET
3. For someone that's new to the practice, what are the benefits of trying yoga and meditation?
I personally think of yoga as the perfect tool to find comfort in your body and with your authentic self-expression. Meditation is the perfect tool to find peace of mind and separation from the noise and distractions of the 3D world.
4. Do you have a favorite meditation that you'd like to share?
"Heartfullness Meditation" is something I can talk about here. It's simply bringing all of your attention/awareness into your heart and staying focused on that space as much as possible for at least five minutes a day. As we all know, where our attention goes our energy goes and focusing our attention on the heart helps the heart's power to grow which eventually leads to separation from the traps of the mind. Sometimes I just focus my awareness in the heart and open myself up to silence. And sometimes I visualize star light or even an entire universe in my heart which really lights me up and generally brings a smile to my face, at least.
5. Explain how you typically practice self-care.
Yoga and meditation are huge self-care practices for me as is journaling, dancing, making art (especially collaging/vision boarding), all showers and baths, connecting with nature, recognizing the beauty of the clouds, listening to birds and bugs sing, intentionally connecting with the moon most days, writing goals and affirmations on the new moon and doing different releasing rituals on the full moon, etc. My two newest practices are a daily cooking ritual which I intend to get to the place of practicing at least 5 times a week and going to the spa at least once a month on the new moon. I truly believe that self-care can become a way of life that leads to self-acceptance, self-love, self-control and eventually self-actualization. Let's get it IN. 🧘🏿‍♀️😘🧘🏿‍♀️