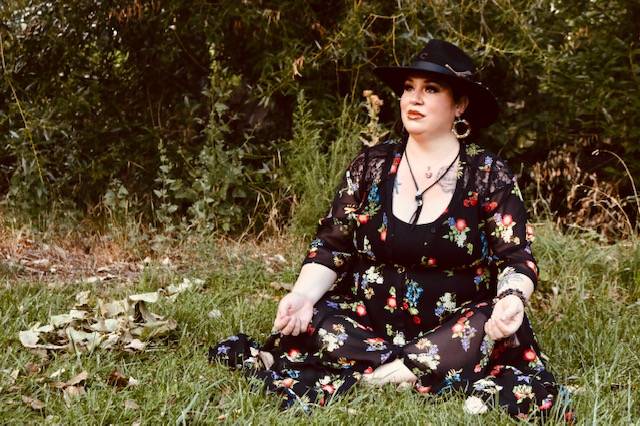 Naomi Ochoa of Wise Moon Wellness is dedicated to holding space for Divine connection. Through movement, breath, and body/mind/spirit work, she reminds us to make space for bliss. She invites our bodies to remember how Sacred we are. She is a loving witness to the magic unfolding of our most authentic selves.
Naomi is a Curandera, Sobadora, Healer, Dancer, Lover, Mother, Daughter, and Sister. With over 12 years of experience in the Healing Arts, and numerous certifications in Bodywork, Energy work, Dance Instruction, Breathwork and Circle Facilitation, she continues to let her heart, passion and Ancestors guide her to be of service to the community and Highest Good
1. What made you get into breath, movement and bodywork?
It was all so happenstance, I sometimes think the work chose me! In a former life, I was a longtime server/bartender, and I had this calling to go deeper, and ended up at the Colorado School of Healing Arts. From day one, I developed such fascination and reverence for the body. The way this vessel works like a magic machine! Oh! To think about it connects me to that Higher Power every time. How could something this simple, yet complex, be accidental? It has to be Divine. Movement and Breath are just ways to enhance and support the system, and I am here for all of it!
2. You specialize in holding sacred space for the divine. Can you elaborate on why this is important?
As a Xicana woman trying to find peace with the epigenetics of colonization in my body, it can be so easy to forget how sacred I am. The White Supremest Capitalistic Patriarchy will have us cutting each other's throats for a seat at the table where the greedy white men throw their scraps, and they bank on our disconnection from Spirit, lest we remember how powerful we are. I wanna do my part by holding a safe space for us to come together as women of all cultures, to reclaim our wild ways. I love holding that space for BIWOC, but white women dedicated to doing their work and causing no harm are always welcome in my spaces. As for men, well, I'm not really here for y'all. 😆 But seriously, I have very few men clients. I'm happy to refer men to male healers in the community better suited to handle their needs. The men have to be the ones who hold space for each other.
3. How can one begin healing from trauma?
Wow, this is a big one. I think it's helpful for people to know that Healing is a journey, and not a destination. I don't believe that one is ever completely "Healed". But the industry of Wellness will feed you that narrative night and day, because the money is in the cure! Bits and pieces of Trauma will surface whenever you are ready and in a position to address it. Ever had something resurface that you thought you "healed" from? That's because there's layers to this stuff, and you will always be working on something. The ol' "if you're not growing, you're dying" thing. What's helpful to remember is there's medicine in the grief, sadness, and anger. Healing doesn't always feel like rainbows and butterflies. Give attention to those uncomfortable times. They will lead you to your biggest breakthroughs. And always, always, always do your best to treat yourself with kindness and compassion, no matter where you are in your journey ❤️
4. What is your favorite form of self-care?
Connection to my community. As an extroverted extrovert, I gain so much goodness and wisdom from spending time with those that I love and love me. And I got some great advice from my therapist (normalize therapy for women of color, y'all!) She said "You can't expect one person to be everything you need. Different jobs need different tools." So I keep my "tool box" stacked. I have the friend who makes me laugh, the one who lets me cry, the friend who gives good advice, the friend who just listens, the friend that likes to cuddle, and the friend who gives me tough love. Depending on my needs for any given time, I know exactly who to call. And I reciprocate by being the best "tool" I can be, which is the friend that feeds you, rubs your back, and reminds you of how special you are.
5. What is your favorite mantra and why?
"You are not a drop in the ocean. You are the entire ocean in one drop." This quote from Rumi is my mantra, because I am the Divine light of love manifest. I am magic. I am medicine. I am worthy. I am everything I've been searching for and more. I am love. I am God Energy in the flesh. And so are you. ❤️