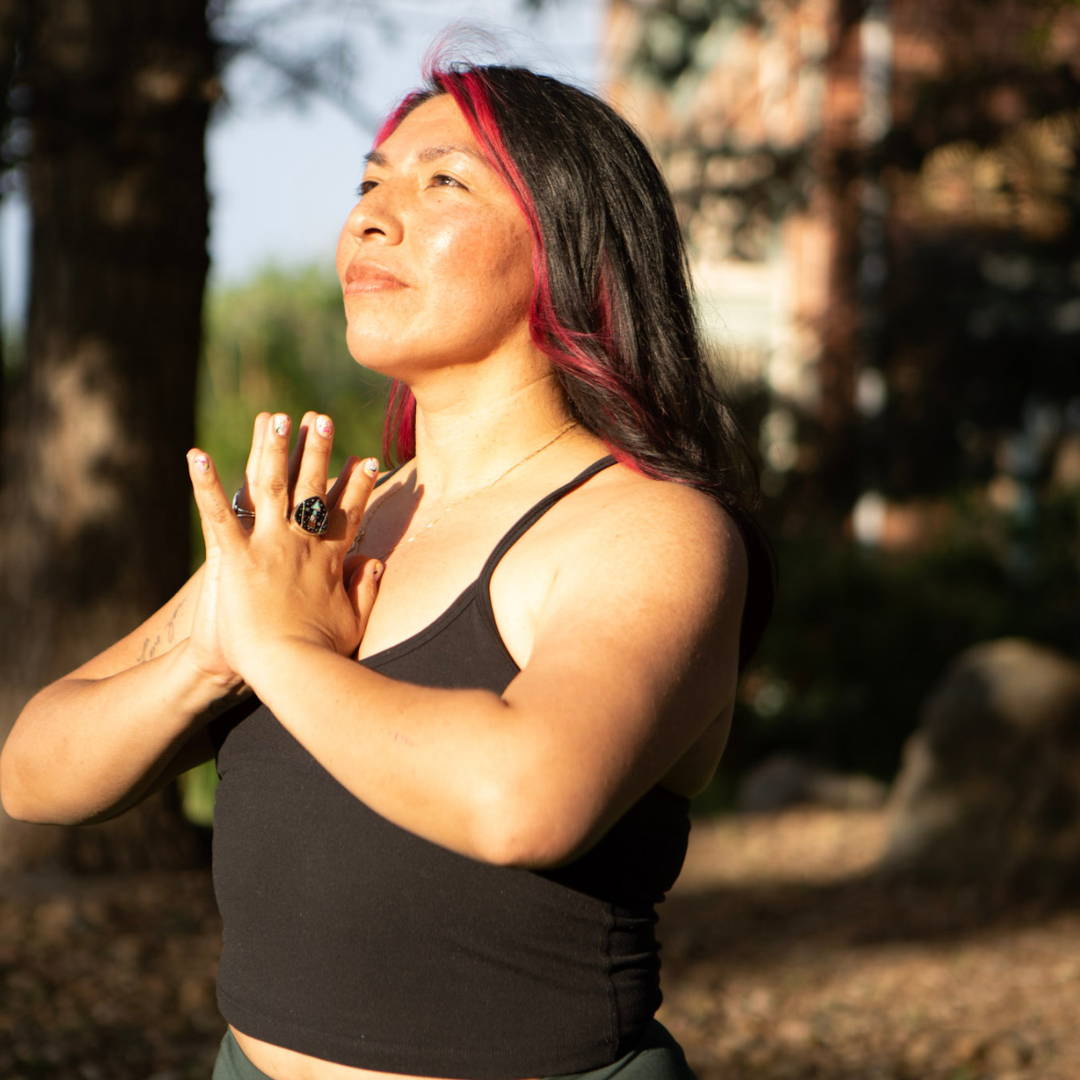 Kristi is Native American yoga teacher who has been practicing since 1999. Yoga has helped her explore her own healing by bringing an awareness to the mind, body, and spirit connection. Her holistic approach to yoga combined with her knowledge of Indigenous teachings has brought balance to her life. Kristi is passionate to share the empowering benefits of yoga and emphasizes connection and conscious intention to promote personal growth and grounding in her classes. She inspires others by teaching from her heart to help create a fun and safe environment for students to practice.

1. How did you first get into yoga?
I found yoga when I was 19, at college, and thought it was a way to exercise and remain flexible. I didn't realize it was so much more than that until I was in my mid-20s and it helped steady my mind and get me through some tough times.
2. What is your approach to the practice?
Every time I show up to my mat, I try not to put any expectations that I have to be, or look, or act a certain way. I realize it's going to be a different experience every time I begin moving, and I try to be open to what comes my way. I trust that I will be in a better place than when I started.
I try to be mindful of what I'm thinking, and not get too caught up in focusing on my thoughts. I get distracted, but I try to come back to the present and remember that all I truly need is what is with me in this moment.
3. How has yoga supported your own healing and awareness of mind, body and spirit?
Yoga has been there for me during some really hard times in my life. It's helped me process the grief of losing my mom, and also when I got divorced. It's been there for some really happy moments too and everything in between. It continues to help me sustain balance and appreciate my body. I like to think of these movements as a form of prayer that I can send out for others to receive the benefits. When I feel attuned to my own sense of balance: emotionally, physically, mentally, and spiritually— I have a greater awareness of my connection to the universe and others.
4. What is your favorite form of self-care and why?
I love rest— whether it's laying on the floor to feel grounded or getting a *lot* of sleep. My bed is my haven. It's where I feel safe, where I'm at home. I also love to cook. I love to cook for myself, since I can nourish my body, and I feel I'm really taking care of myself. If I cook for you or want to feed you, this means I love you.
5. Do you have a favorite mantra that you'd like to share?
I have two! "You can only lead as well as you are rested," and "what you resist, persists."