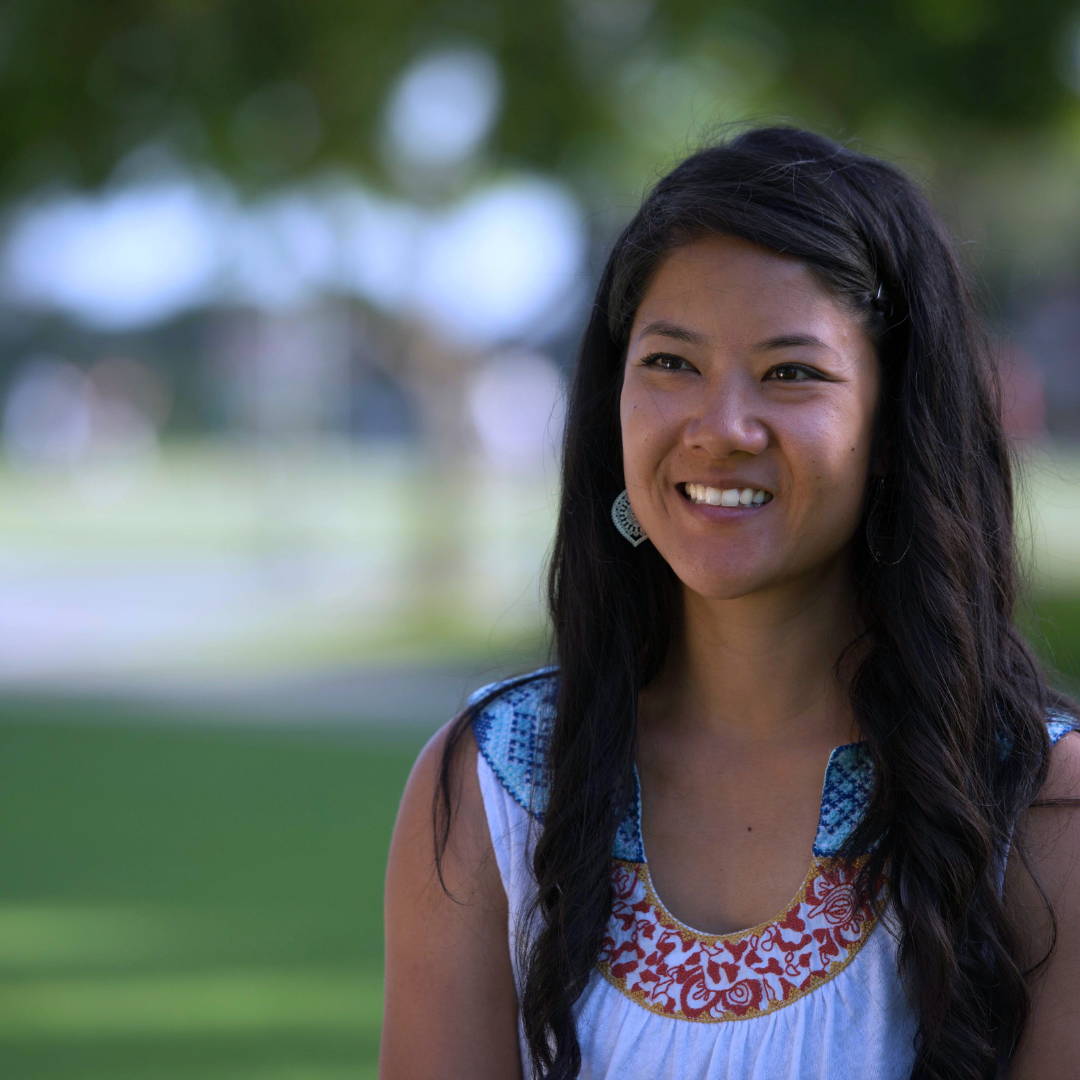 Daranee's personal and professional work is centered on advancing equity and racial justice in predominantly white spaces, including postsecondary education, yoga, wellness, and the outdoors. She is especially passionate about bringing yoga to diverse communities and has taught classes to youth in community-based settings in Denver and to indigenous Mayan youth and adults in Guatemala. As the proud daughter of Thai-Chinese immigrants, Daranee enjoys traveling, reading, cooking, and preserving the cultural heritage of her ancestors.
1. How did you become acquainted with Urban Sanctuary?
I was looking for a yoga studio grounded in community. I had taken a few yoga classes at Urban Sanctuary before the pandemic, but became more involved after attending free meditation classes that Ali (the owner) offered for Asian American Pacific Islanders (AAPI) after six Asian women were murdered in the Atlanta shooting in early 2021. It was the first time I had felt seen in such a profound way in a yoga space in this country.
I especially love the way Urban Sanctuary makes yoga accessible for people with diverse identities through offerings such as free BIPOC classes, chair yoga classes, classes for senior citizens, and sliding scale memberships.
I was also excited when I learned that Urban Sanctuary decided to offer aerial yoga classes, because it's such a fun, expressive, and playful form of movement. I love teaching aerial yoga classes because it's so wonderful to witness the transformation that takes place in students after a single class. Aerial movement is such a unique way to overcome fear and gain confidence while building strength and flexibility at the same time!
2. What do you love about yoga and how does it translate with your work with the community?
I love how yoga gets me out of my head and allows me to engage with my emotions and experience the world in a more embodied way. I'm also grateful for the incredible community I've found through yoga. I've met so many amazing people across the world through my yoga practice.
There is so much about yoga that translates directly to my work with the community. During the day, I'm an educational researcher. I focus on qualitative research methods that center and elevate the voices of students who identify as Black, Indigenous, and People of Color in major urban areas across the U.S. My research informs recommendations that are implemented in schools to create more equitable learning environments for BIPOC students.
My yoga practice of svadhyaya (see explanation below) and deeply rooting myself in my own identity also translates to my work in the AAPI community in Denver. As the proud daughter of Thai-Chinese immigrants, it's important for me to preserve and uplift the culture and heritage of my ancestors. I am actively involved with Colorado Asian Pacific United (CAPU), a grassroots coalition of AAPI leaders and creatives working to advance racial equity and solidarity in Colorado. One of CAPU's current projects is to bring back Denver's Historic Chinatown, which was burned to the ground in an anti-Chinese race riot in 1880.
I am also a Board Member of Colorado Dragon Boat and most recently was appointed by the Mayor to the City of Denver's Asian American Pacific Islander Commission.
3. How do yoga and social justice go hand in hand?
To me, yoga is inextricably linked to social justice because the purpose of yoga is to achieve liberation from suffering for all beings. Social justice is about our collective liberation from structural oppression.
Movement in itself is a form of freedom. During the pandemic, I attended an online discussion between the great scholar-activist Angela Davis and Ericka Huggins, a scholar-activist, poet, and former Black Panther party member. They both spoke about the ways meditation and yoga helped them survive solitary confinement (one of the most extreme forms of restricting freedom) during their time as political prisoners. When I think about ways structural oppression limits movement -- whether through borders and immigration policy, ableism, or other racist policies that hinder social mobility -- the connection between yoga and social justice becomes clearer to me.
There are two elements of yoga philosophy in particular that help me draw crystal clear connections between yoga and social justice:
Svadhyaya - This niyama, or ethical behavior toward ourselves, is a form of self-study, a personal inquiry. I understand this concept as self-exploration, reflection, and introspection. By knowing ourselves better, we can show up more authentically for others.
Seva - This concept describes "the actions that seek collective uplifting through the understanding of the needs of others and are based on togetherness and integration" (from Swami Niranjanananda Saraswati).
For those who want to learn more about the connections between yoga and social justice, two of my favorite books on this topic are:
Skill in Action:Radicalizing Your Yoga Practice to Create a Just World by Michelle C. Johnson, and
Love and Rage: The Path of Liberation Through Anger by Lama Rod Owens.
4. How do you practice self-care?
I practice self-care by regularly giving myself time alone. It gives me time to think and process and sit with my thoughts, feelings, and emotions. I feel very comfortable doing things by myself -- whether it's traveling, hiking, roadtripping, going to the movies, etc. I think solitude is a great way to get to know ourselves better because it allows us to go inward, which can sometimes be uncomfortable, but can lead to great clarity and a sense of grounding. Enjoying our own company is so important, especially in a world that is constantly making us feel like we're not enough.
5. Do you have a favorite mantra or saying that you'd like to share?
I use this quote from Dr. Cornel West as my North Star in the work I do on a daily basis: "Never forget that justice is what love looks like in public."
This is an excellent article about the profound connections between love and justice: Justice is Love, Embodied.