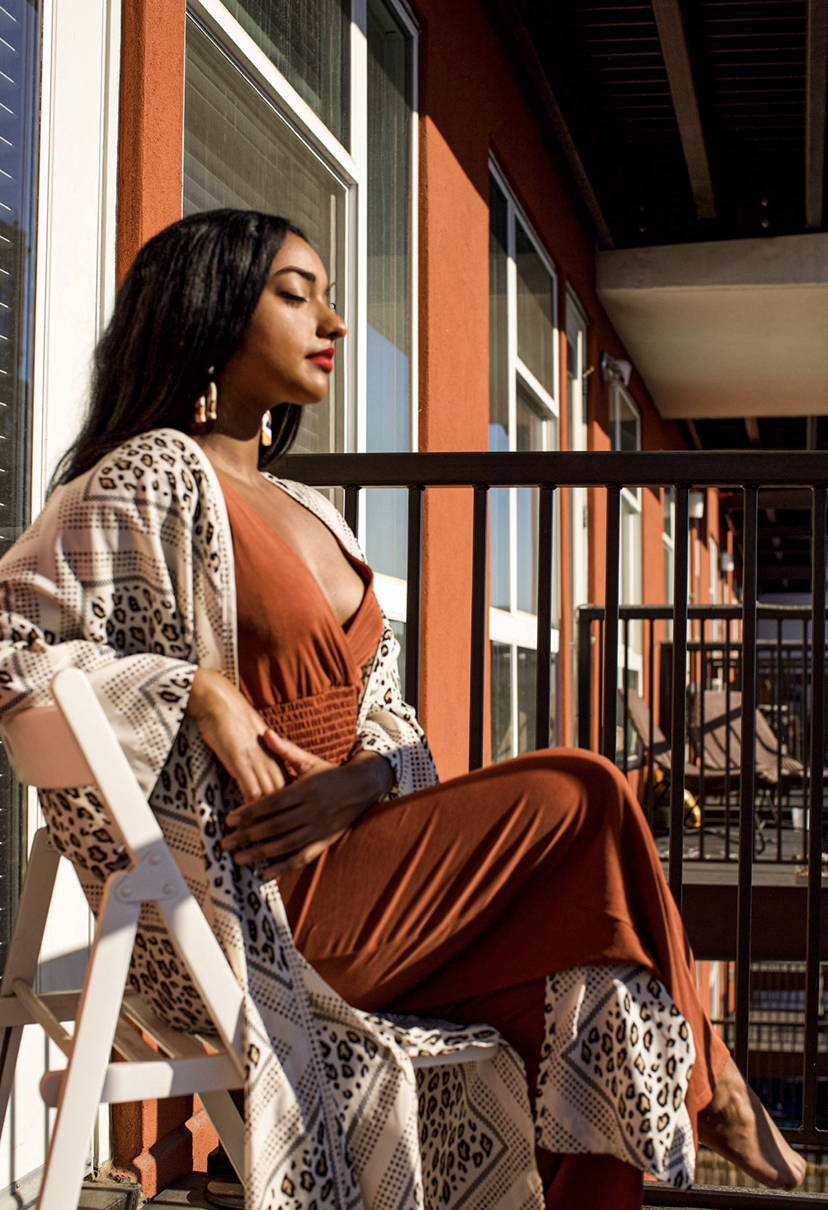 Growing up in Trinidad and Tobago, Soraya has experience dancing ballet, jazz, hip hop, contemporary and West African dance. She returned to yoga asana as a way to find her breath again and as a means of connecting back to her ancestors. She currently lives in Denver, CO on Arapaho land and co-leads a youth-civic engagement and organizing program and non-profit and co-teaches university courses on social justice and education as a tool for social change. She is pursuing an MPA with a focus on Environmental Policy and Law at CU Denver. Soraya completed her RYT 200 studying Ashtanga and learning to teach Vinyasa yoga in 2020.
1. How did you get into yoga?
I started practicing yoga when I was 16. I grew up dancing and teaching dance in high school, and yoga at first was another movement practice I could engage in but was one my mother found more accessible at the time. My mom immigrated my sister and I to the U.S and raised us, and her health and wellness interest impacted me early on. I started practicing again in my 20s consistently while looking for a means to learn more about my lineage, connect to my roots, and engage in radical self-care while embodying and teaching activism and social justice. In my early and mid-twenties, I began to understand the eight limbs more and experience healing in my body and the collective body of my communities through this practice.
2. How does it help you connect back with your ancestors?
Much of the details of my lineage are unknown due to the violence and separation of the trans-Atlantic trade of enslaved peoples, indentured servitude and colonization, and genocide. I grew up in Trinidad and Tobago, and from what we know, many of my ancestors are from regions of the world where yoga was born in Africa and India. Yoga reminds me of the long history of the pursuit of liberation and the practice of radical care by the people who made me and it also roots me in a practice of healing not only for myself in this body and in this life but for those who come after me and the lineage of my ancestors who came before me. I've seen and felt my ancestors through yoga and pranayama in ways I had not before this practice. I also did not see many examples of rest or self care growing up from the women in my lineage, when I pause to breathe intensional, move my body or care for myself in this way, I feel the women before me who did not have the privilege or access and the women after me like my sister who is embodying that care now.
3. You do quite a bit of community organizing and social justice work. Do you find that yoga and activism can go hand-in-hand? Why or why not?
The ways in which I first interacted with yoga in the United States, I would not have been able to make the connection between yoga and social justice. However, my own path towards claiming space and time for my own practice in my 20s came through feeling burned out through my social justice, activism and community work. I completed my yoga teacher training during the 7th year of the Black Lives Matter Movement. Taking time to practice every day and come back to my breath in a time where it felt so hard to find my breath, there were many lessons there. There is a long and often unknown history of Black people doing yoga in the U.S, particularly as a means to heal racial trauma. We also know that Black folks have been practicing yoga and meditation in the work of liberation and social justice. Rosa Parks learned yoga and even taught classes herself in the 1970s and understood that in order to sustain the weight of being not only Black in America but a civil rights activist, she had to preserve and care for herself.
Angela Davis used yoga to keep her grounded while in prison and keep her energized for the movement. To radically love our bodies, to engage in the healing of our bodies, is not what our current society, what white supremacy, intended. This yoga practice has been a saving grace for me this year, it's supported me in coming home to myself and more rooted in the world I wish to see. Yoga is, from what we know over, 5,000 years old and it has also suffered at the hands of colonization and I have come to see it as a means for liberation, much like those before me. In practice, I work with youth in Colorado on issues of injustice and in that work I do my best to co-create spaces with the young people that are less likely to re-traumatize and more likely to have the possibility of healing. We center and fuel our emotions into action and share stories of identity, values, privilege and oppression and it can be a lot in the body to move through. Bringing in healing, mindfulness, and yoga, and meditation practices this past year as my own learning grew has reminded me that the young people I engage in justice work with that self and community care are integral in our work. At the root of our activism is liberation, and taking care of ourselves, in our intersectional bodies, reminds us of a vision where we are well, rested, and free. Yoga and meditation helps remind me in my activism work that my body, ancestors, and kin are sacred and precious. This practice also offers a way to connect back to indigenous ways of knowing, something that is necessary in decolonizing as we build through activism.
4. What is your favorite way to unwind or de-stress?
Taking yoga and movement classes from other teachers. Anytime away from a screen these days feels like a gift to the body and before moving to Five Points I'd walk to and through the neighborhood a few mornings every week this summer. I love to read, write and reflect throughout my week. I believe in pleasure and have been recently claiming that more, wine and movie nights with my partner when we can find them have become sacred to me, especially during this pandemic and caring for my skin. Travel and trips are also beloved to me.
5. If you could have 3 people over for dinner (dead or alive) who would it be and why?
The late Congressman and Civil Rights Activist John Lewis, when I learned of upon moving to the United States, he gave me great hope. "Good trouble" and his grace and deep understanding of a given moment, how we got here and where we are going, are ideas that are always with me.
My grandfather on my biological father's side whose house I also grew up in Trinidad. He passed a couple years ago now and I wished for more time with him and my family separated with immigration and divorces. He was the first person to say to me "Black is beautiful" and that was one of the last times I got to have a full in person conversation with him. John Lewis physically and spiritually, sometimes reminds me of my grandfather.
My grandmother who lives in Trinidad and Tobago still, we have not been able to visit with the pandemic, and time is passing. I want her to know she has a place at my table and a home in my house. I want more than most things to have her in my life physically as much as she is in my body, mind, spirit every day.
I know you said three, and here I am breaking the rules but outside of blood relatives, James Baldwin and Toni Morrison come to mind, my body finds a home in their words, and they feel like ancestors to me.