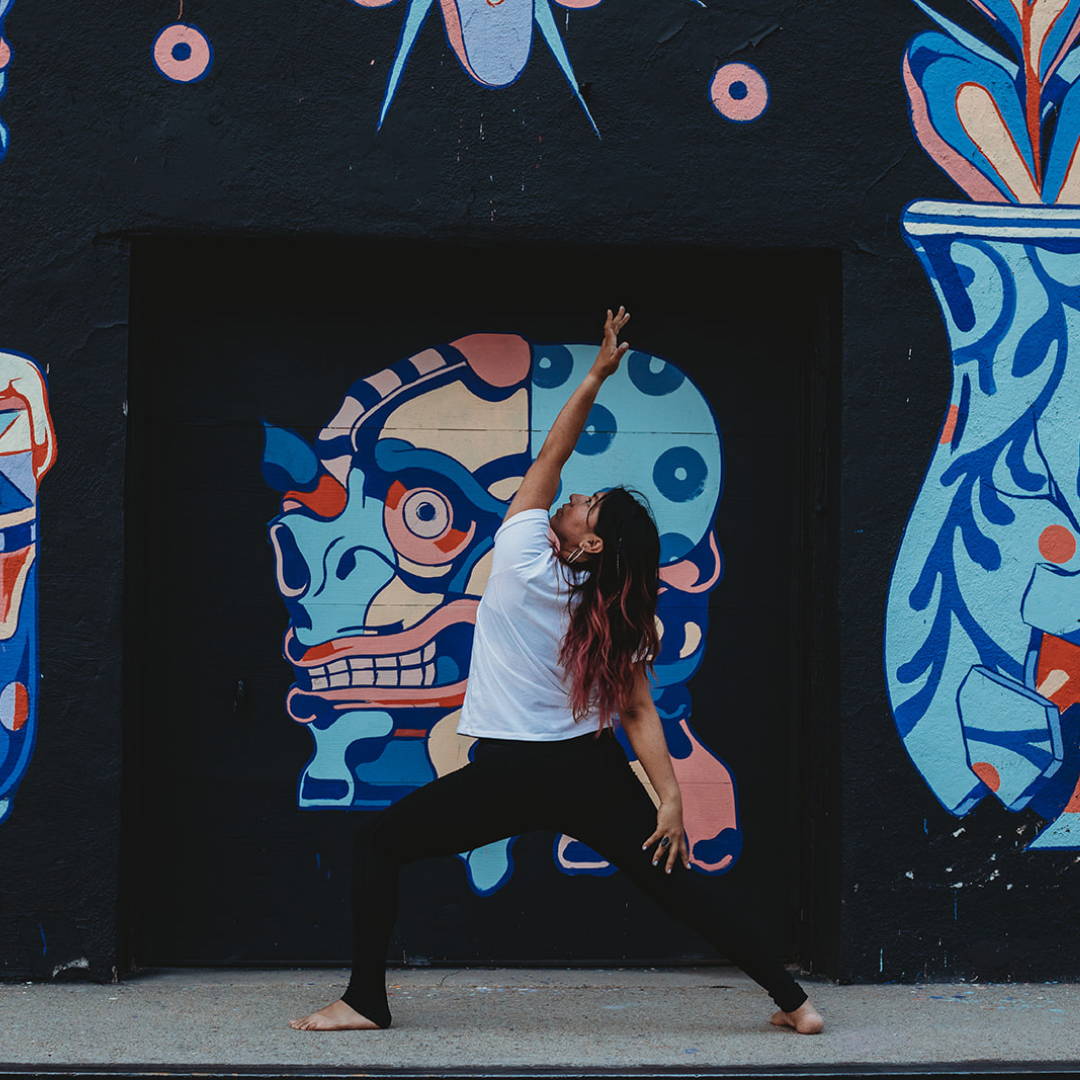 Kristi is Native American yoga teacher who has been practicing since 1999. Yoga has helped her explore her own healing by bringing an awareness to the mind, body, and spirit connection. Her holistic approach to yoga combined with her knowledge of Indigenous teachings has brought balance to her life. Kristi is passionate to share the empowering benefits of yoga and emphasizes connection and conscious intention to promote personal growth and grounding in her classes. She inspires others by teaching from her heart to help create a fun and safe environment for students to practice.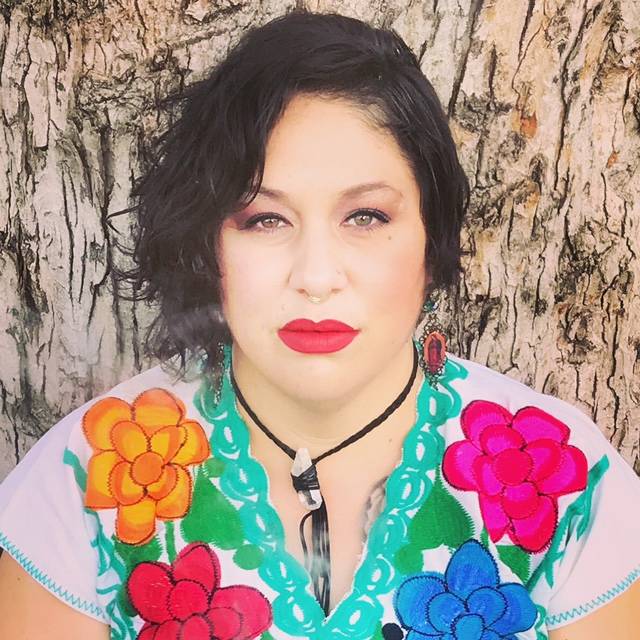 Naomi Ochoa of Wise Moon Wellness is dedicated to holding space for Divine connection. Through movement, breath, and body/mind/spirit work, she reminds us to make space for bliss. She invites our bodies to remember how Sacred we are. She is a loving witness to the magic unfolding of our most authentic selves.
Naomi is a Curandera, Sobadora, Healer, Dancer, Lover, Mother, Daughter, and Sister.
With over 12 years of experience in the Healing Arts, and numerous certifications in Bodywork, Energy work, Dance Instruction, Breathwork and Circle Facilitation, she continues to let her heart, passion and Ancestors guide her to be of service to the community and Highest Good.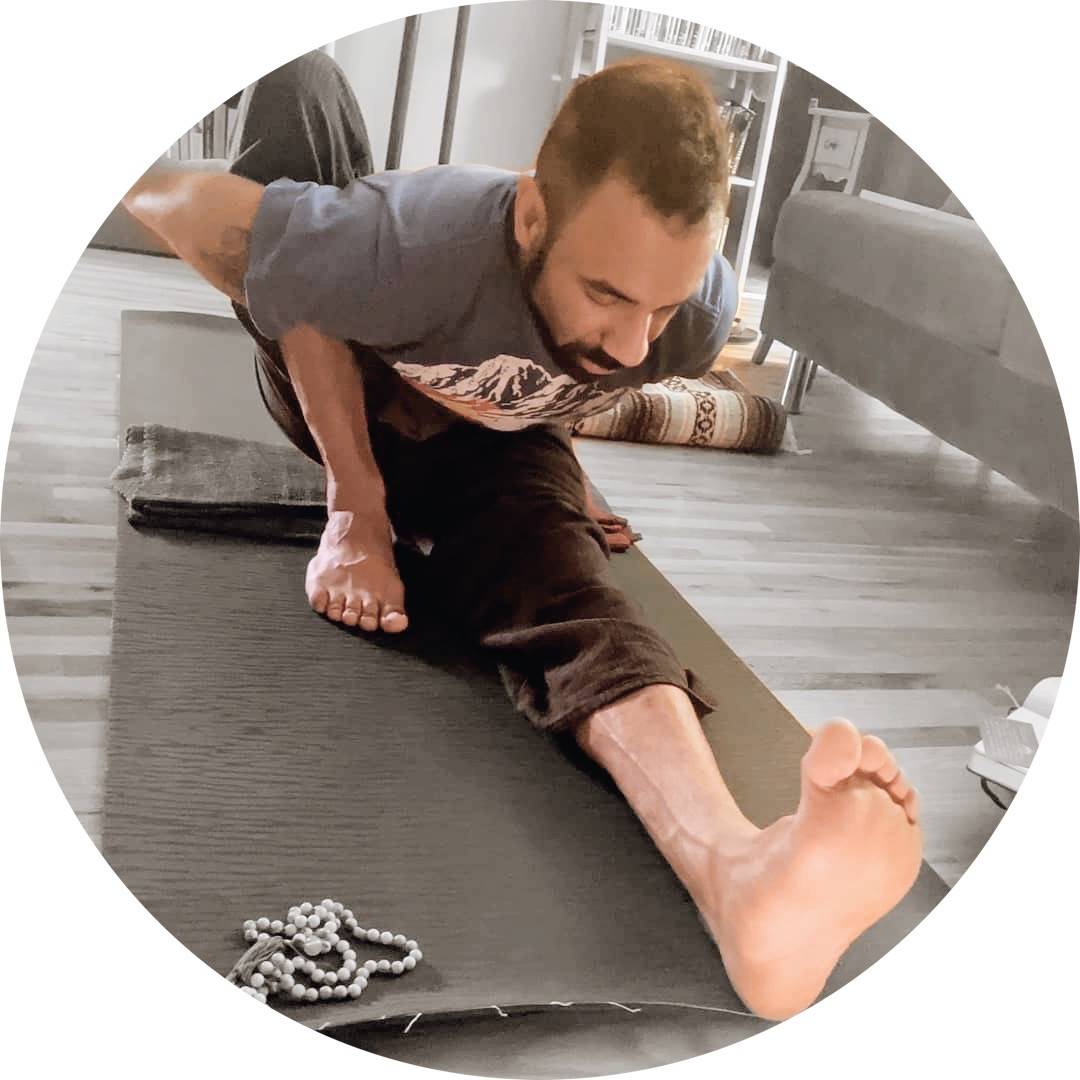 James began practicing moving meditation and flow arts in 2004 by-way-of Tai Chi Chih and healing hands. Hatha yoga found him during an intensive experience in the winter of 2012 via the Veterans Administration. Yoga and meditation stirred his curiosity immediately.
He began practicing transcendental meditation the following year. And since, he's never halted his exploration of contemplative arts whether the modality is the mantra, meditation, asana, breath-work, and flow.
His yogic studies and practice are influenced by Santosh Powell and Maharishi Mahesh Yogi. James is a Yoga Alliance RYT teacher with certifications in bodyweight & steel mace fitness. He leads heart-centered vinyasa with special attention to trauma-aware teaching modalities. James shares the arts of yoga, embodiment, and mediation to give back to his community.
Each modality has been a lifesaver along his path and granted him the ability to re-chart his course through our lifeworld.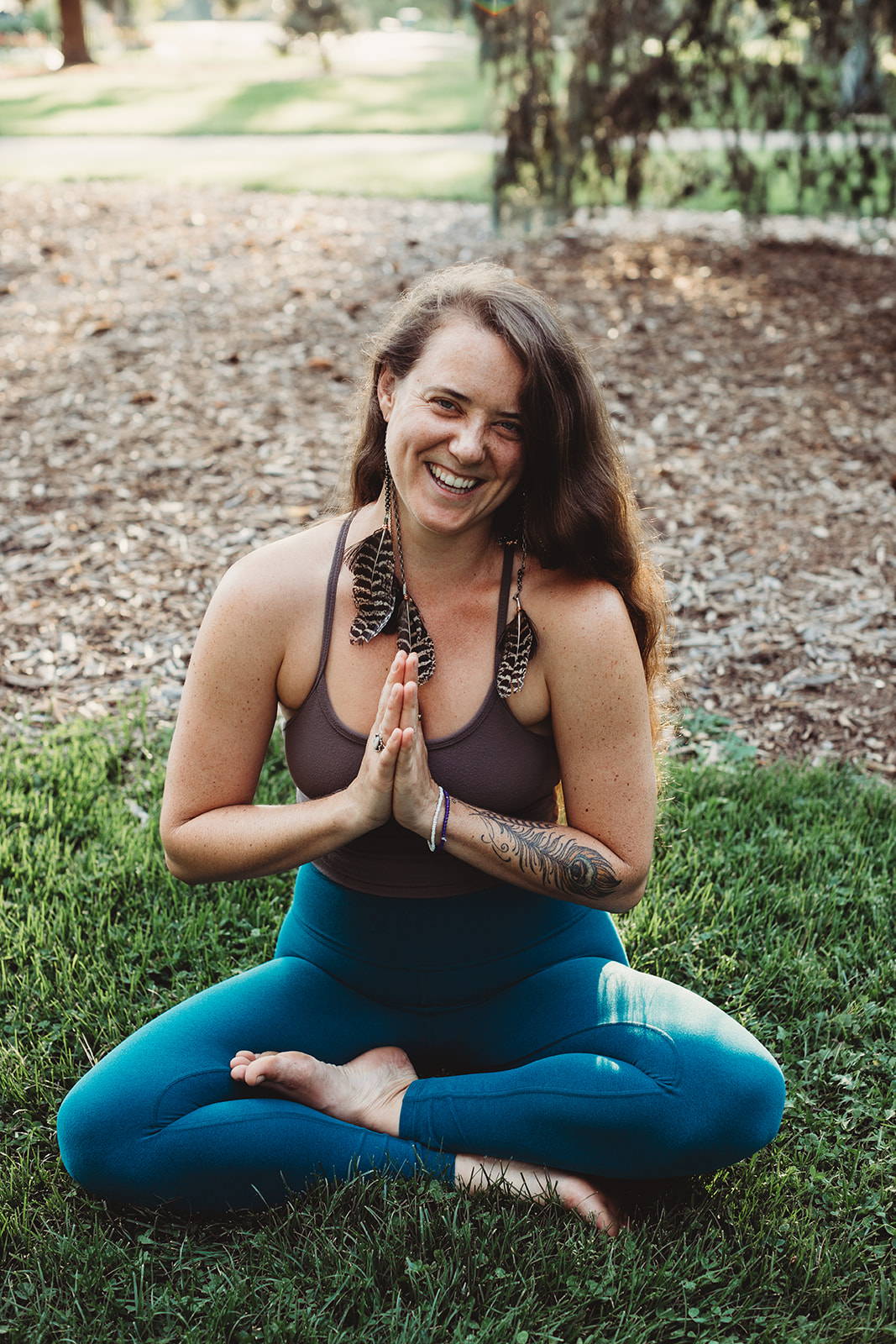 Yoga, movement, and dance are integral parts of Megan's life's journey and contemplative practices that she has a passion for sharing with others. Megan completed her 500-hour yoga teacher training in 2016 and has been studying Somatic and Cultural Studies at MSU Denver for the past four years. Through her studies, she has had the opportunity to study diverse dance and movement forms in the US and Ghana. Megan believes in the power of movement and breath to facilitate body awareness, healing, and love. She creates classes that are fun, grounding, and encouraging of expansion into the depths of svādhyāya or self-study and through self-knowing, a life of authenticity can be created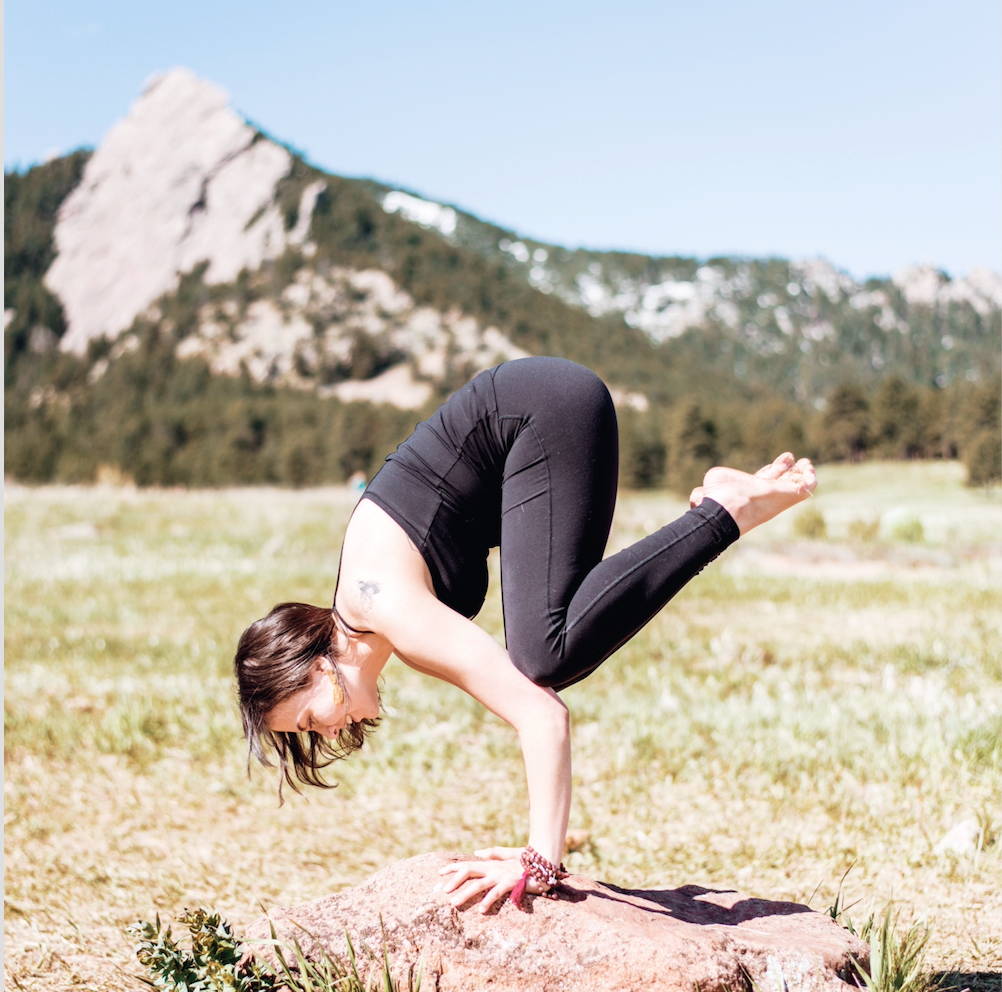 Havanna Stegner is an 200-Hour certified yoga teacher and she finished her training in May of 2019 through CorePower Yoga. Havanna finds joy in the practice of Power Yoga, Vinyasa, Katonah, Hatha, and Yin. Her passion for inspiring freedom and igniting confidence in others shines on and off the mat. In her classes, utilizing the power of meditation, asana and pranayama, you will discover the power you hold within, face challenges courageously and overcome fear and insecurity.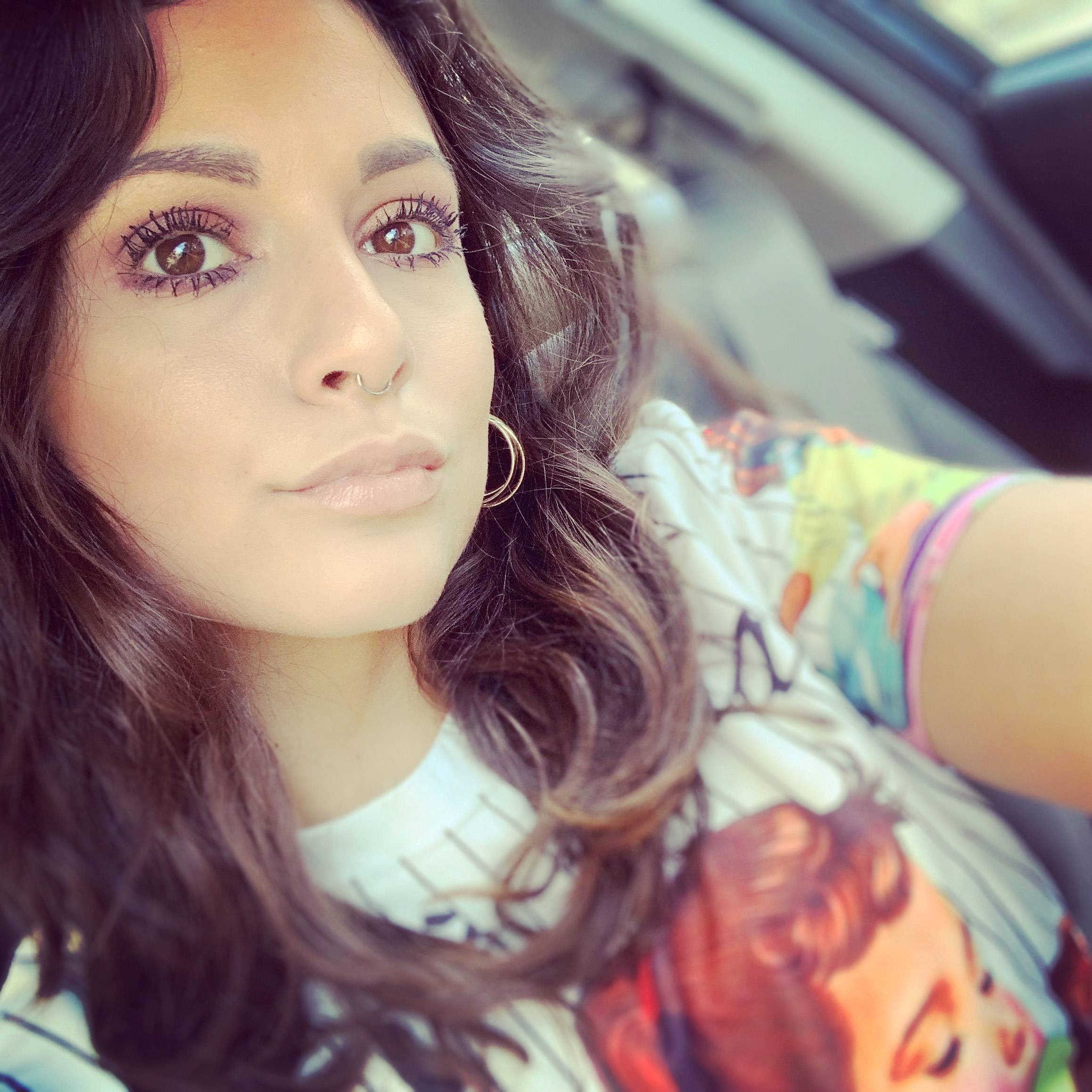 Becca has always believed that movement is the key to happiness both internally and externally. She started with gymnastics and then found her way to yoga.
The principles of Yoga taught her that the mind-body connection is of vital importance in order to understand one's place in the world.
Becca has been practicing for 15 years and has been teaching for 6. She loves the fluidity yoga brings to her life and the lives of others.
Becca is able to incorporate her Chinese medicine principles in her practice as well as deep stretching and adjustments.
She can't wait to practice with you!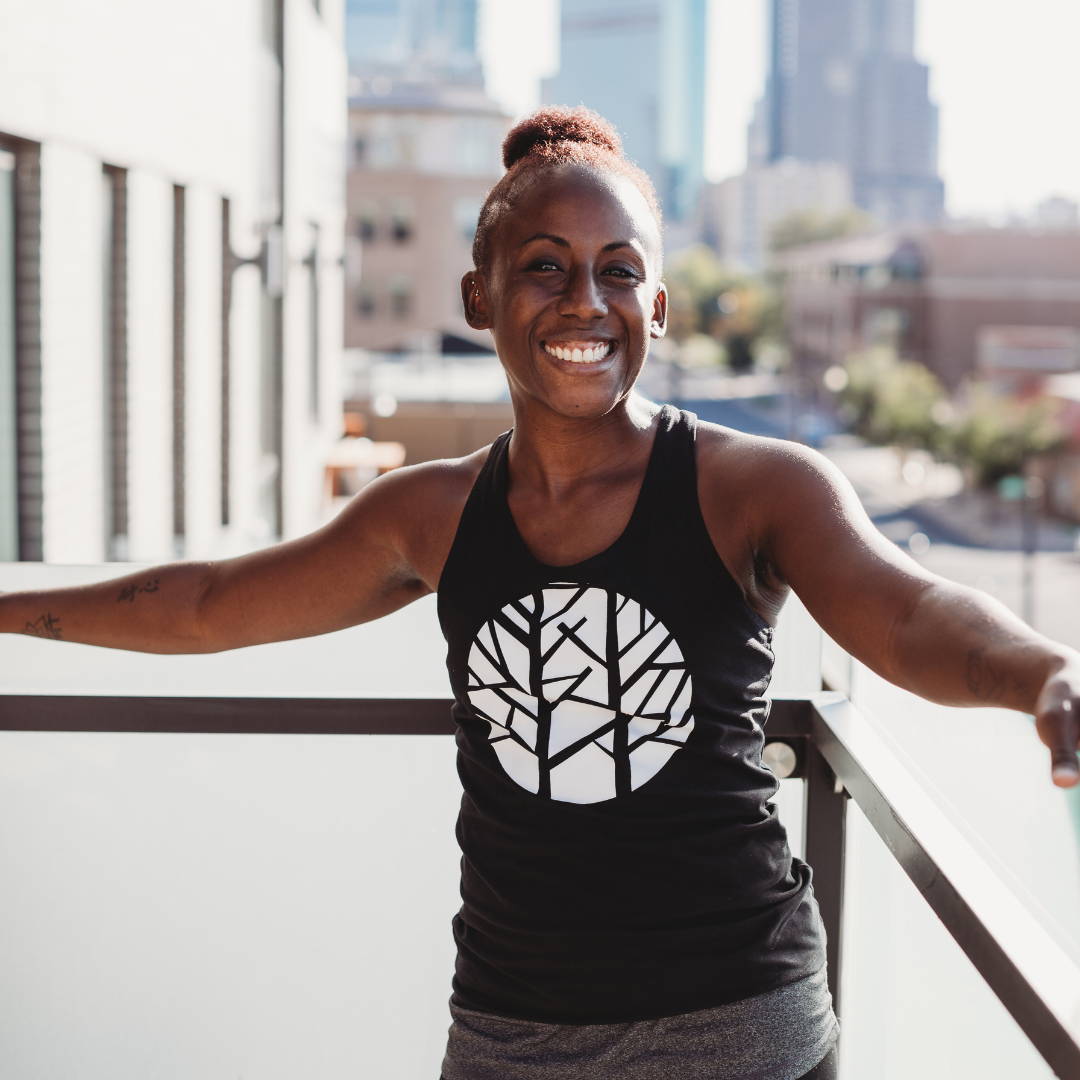 Courtney grew up in Southern Illinois and yoga found her in college before graduating as a dance major. Through the years, she now values this practice as building a connection with yourself more than making perfect shapes. Courtney has 500hrs of training in power vinyasa from the River Yoga in Denver. Courtney is also a massage therapist, Reiki healer, and 90s hip hop and RnB enthusiast.
Learn more about Courtney here and to book a session www.intunecb.com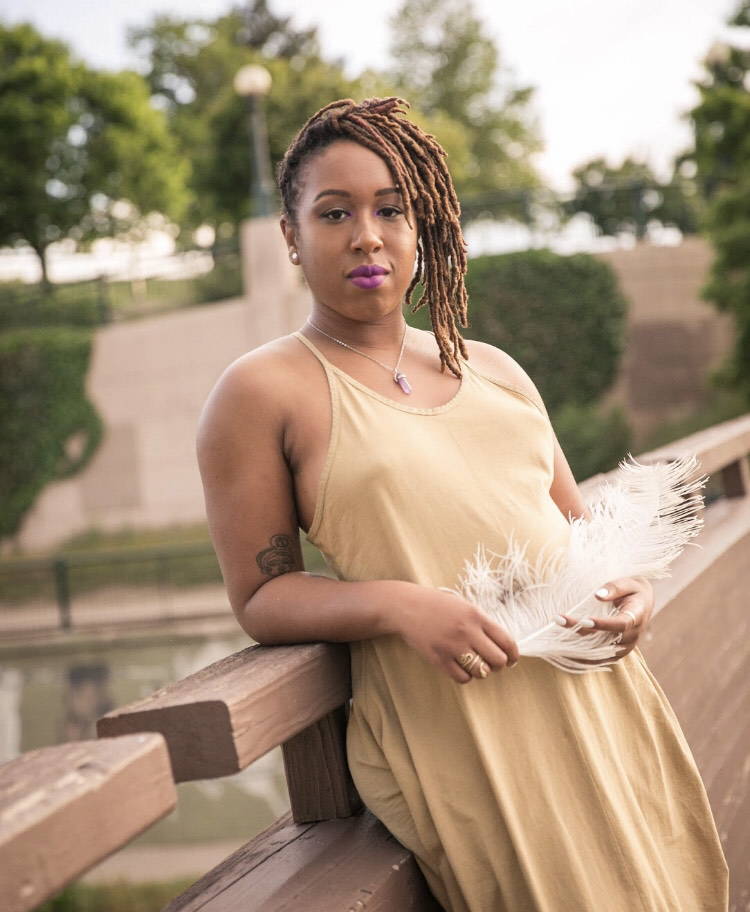 Celeste Ma'at received her BS in Wellness Studies for Marginalized Communities. She is a Full Spectrum Doula, Certified Wellness Coach, Reiki practitioner and Yoga Teacher.
--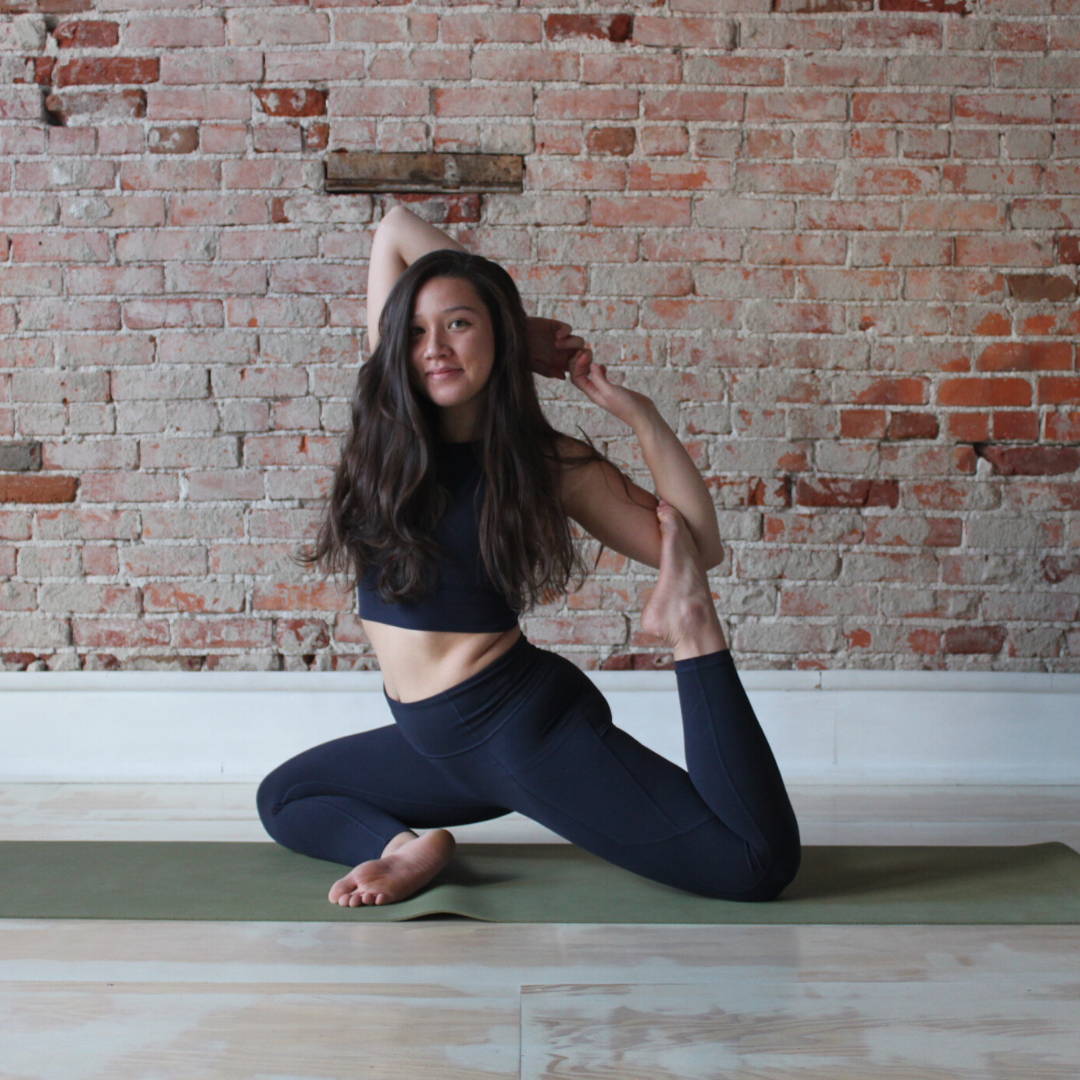 Jolena is a spiritual environmentalist, and she hopes to use yoga to help heal herself, others, and the natural world. Yoga has allowed her to connect with the true nature of herself, and the true nature of all life on earth. Jolena has found that we are– like butterflies flitting over a babbling stream– peaceful, beautiful, and perfect at our core. This understanding of the purity and goodness of nature has given her immense love for the planet and its inhabitants. Life holds intrinsic value beyond anything she can comprehend, and yoga lets her bask in the power of our oneness. Jolena believes there are dark forces in this world. Suffering and injustice that take place on a daily basis. She is an activist, constantly grieving and healing. Yoga allows this to be done in power, grace, and gratitude. After all, true healing can only be done from a place of joy, and so Jolena hopes to spread peaceful bliss to others, combatting human suffering one breath at a time.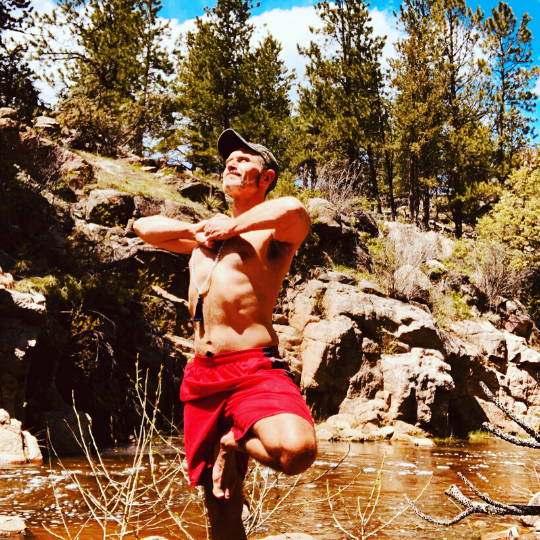 Paul Perry has been teaching yoga since 2006. His skills include many styles of Yoga and his usual offerings include Vinyasa, Yin, Restorative, Kundalini, and Hot Yoga. Paul is especially interested in weaving ancient and modern Tantric practices into the fabric of his teachings. His classes use deep healing techniques like Pranayama, Mantra, and Meditation. He is passionate about teaching classes that cater to the Gay/Queer Community. He has a beautiful sweet cat named Mars, aptly named for this powerful Aries Yoga teacher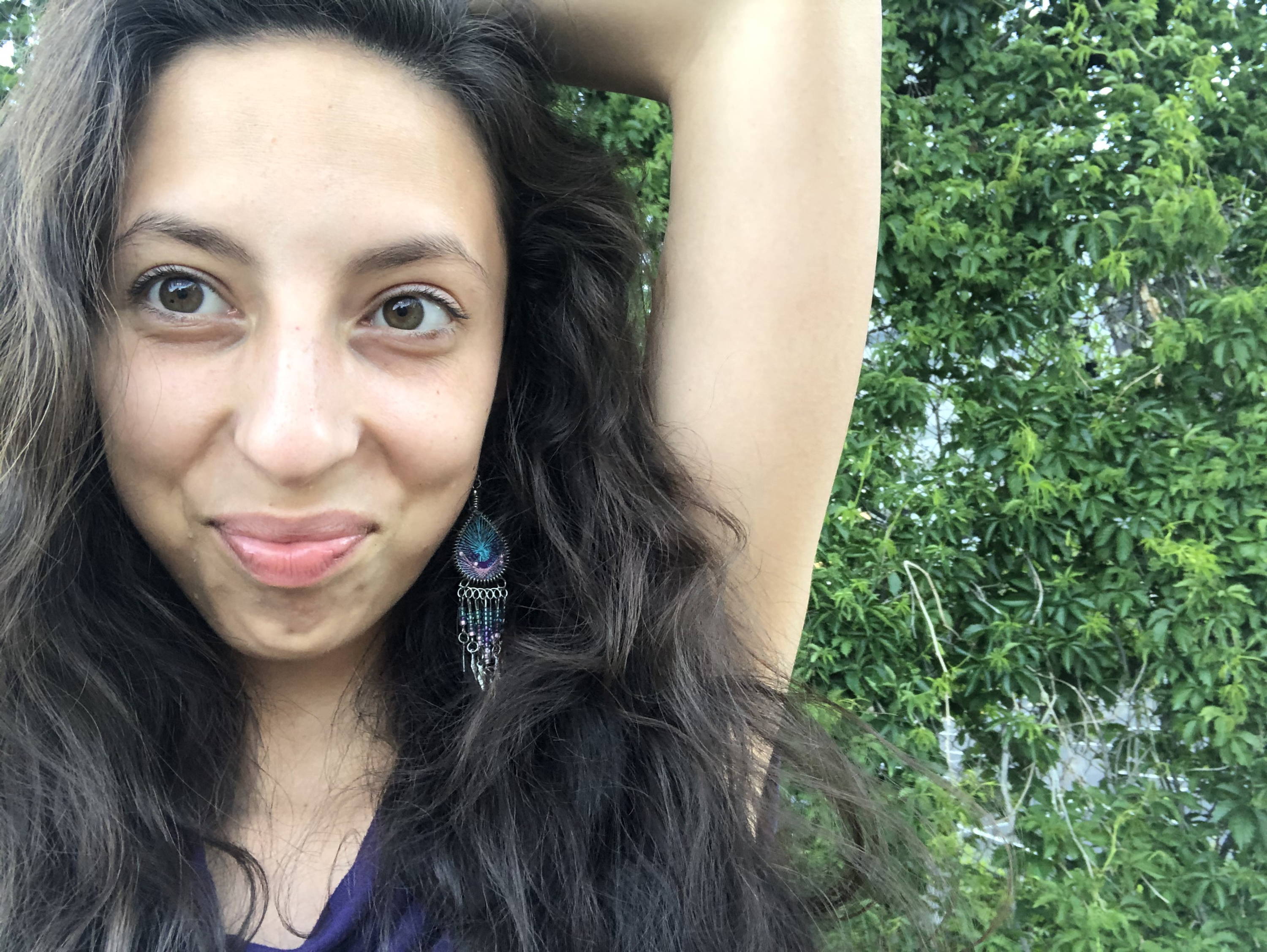 Soly first discovered yoga as a teenager with severe health problems. Both then and now, yoga has been her favorite form of therapy and self-love. She has studied both Sacred Hot Yoga and Vinyasa Yoga and has completed 500 hours of training since 2017. Her goal as a teacher is to gift every student with a sense of peace and belonging in their body and in the world around them.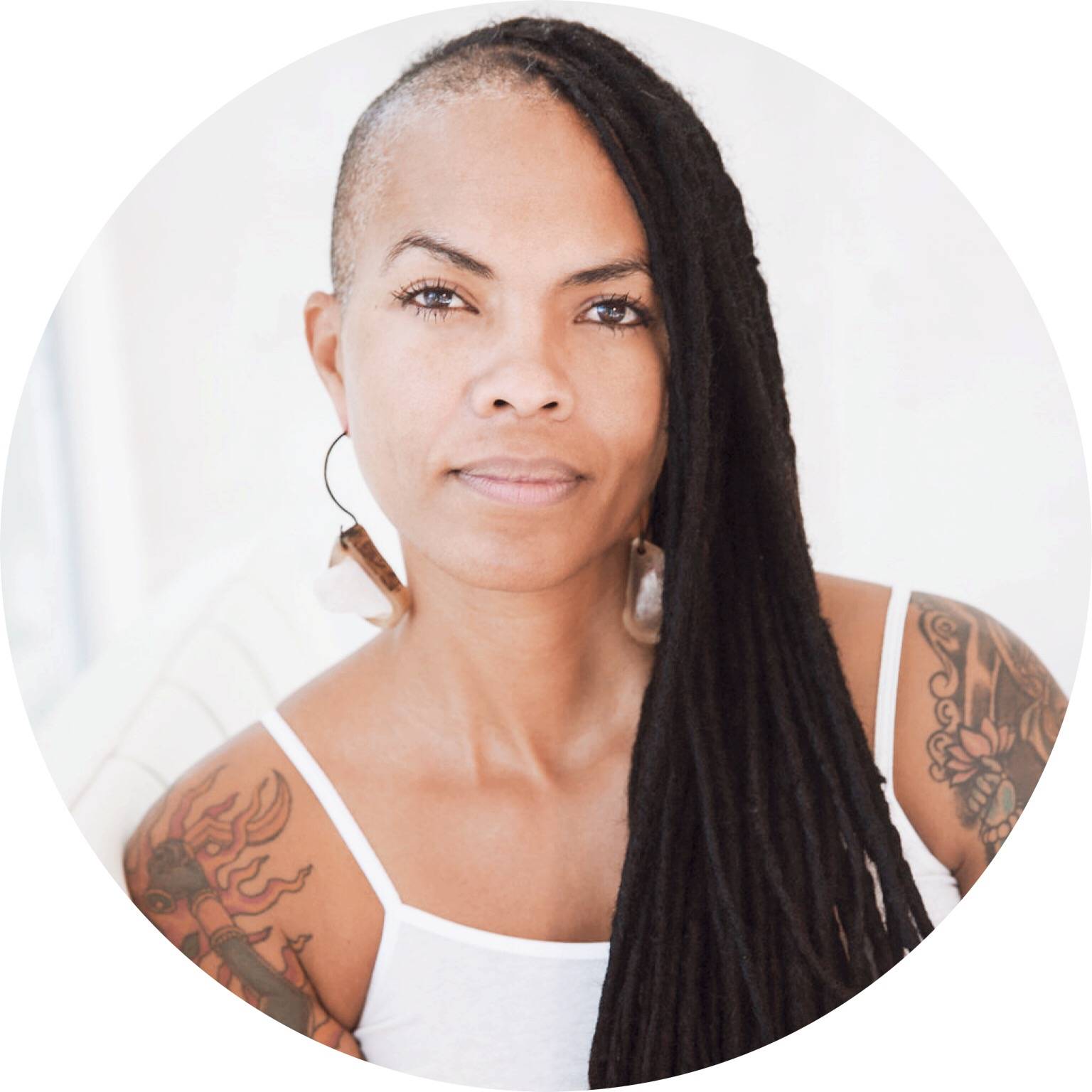 Ali has been sharing her passion for helping others for over 15 years in the form of healing through yoga and energy recalibration. Ali studied yoga, meditation and pranayama in Rishikesh India where she feel in love with the country and rituals. Practicing yoga for over 20 year, Ali creates unique classes that support different healing needs. Her different paths has led her to experience the wonderful power of energy healing in all her offerings. Her intuitive work takes on many forms but the results are the same, clearing of trapped emotions, stronger connection to self, blocks removed, physical and mental balance and health.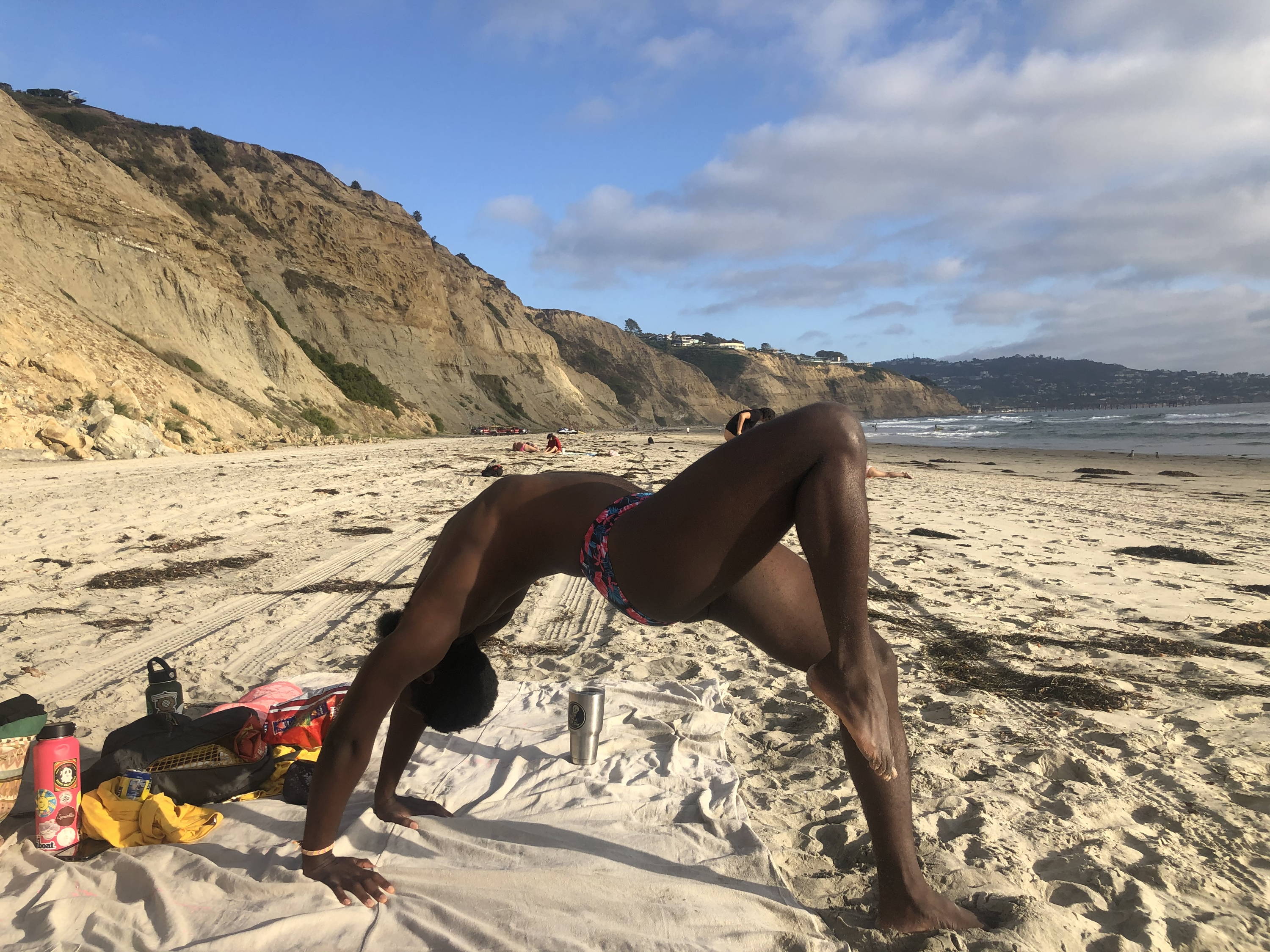 Anthony Adu is an actor and yoga instructor, currently living in San Diego, California. Born and raised in Accra, Ghana, he immigrated to the United States in 2009. Throughout his first nine years in the U.S., Anthony grew up in Aurora, Colorado, graduating from Overland High School, and later attending the University of Denver where he received his BA in Theatre. He then moved west to California to study acting at UC San Diego's graduate acting program and there, he began practicing yoga as part of his Master of Fine Arts education under the incredible Gerhard Gessner. In the first month of his practice, he found a love for yoga. He's been practicing fervently for two years now and has developed a passion for yoga, presence, meditation, and fitness. He recently completed his Yoga Vinyasa Teacher Training with Gessner at his acclaimed Prana Yoga Center in La Jolla, California, and is currently completing his 200-hr certification with Yoga Alliance. His focus is in Vinyasa Flow and he wishes to use yoga as a way to create healing for LGBTQIA+ BIPOC folx and to create space for people to just BE. He doesn't shy away from using his gifts to speak to real things in the world and he believes yoga is a medium to connect to the divine in order to create real change, both inward and with the world. Anthony is currently finishing up his MFA in Acting at UC San Diego.
--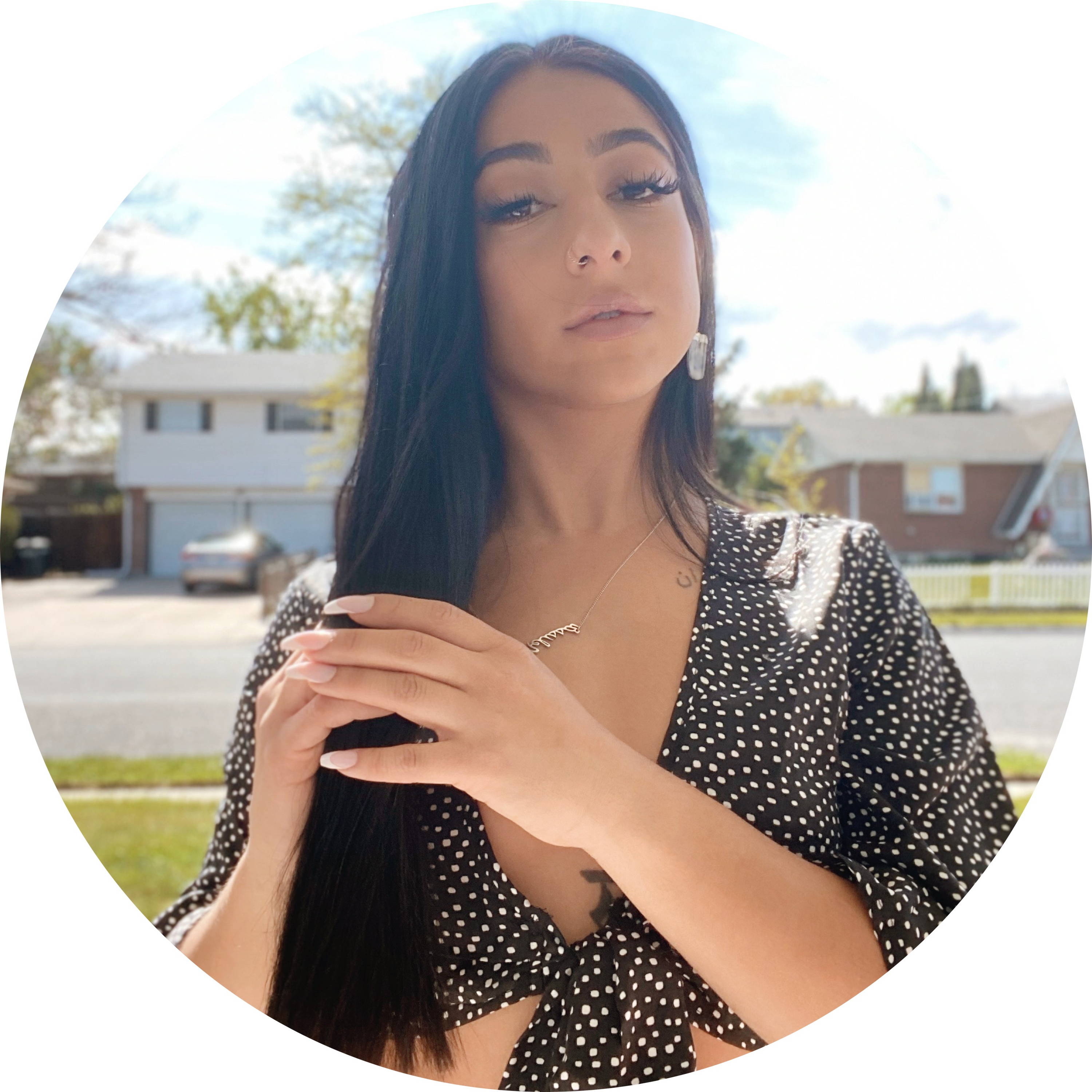 Bianca received her certification in vinyasa/power yoga before she graduated high school in 2015, leading her to teach on multiple university campuses, including internationally.
She holds sacred space for everybody but specializes in healing amongst womenfolk and focusing on bringing out divine feminine energy in her classes. Bianca guides her classes based on gratitude, the highest vibration one can emit and uses this as lens to support others while physically and mentally moving through yoga.
Bianca believes love and compassion should be greeted to every human -- and that every human deserves to know what self-care is, and perhaps that it is yoga!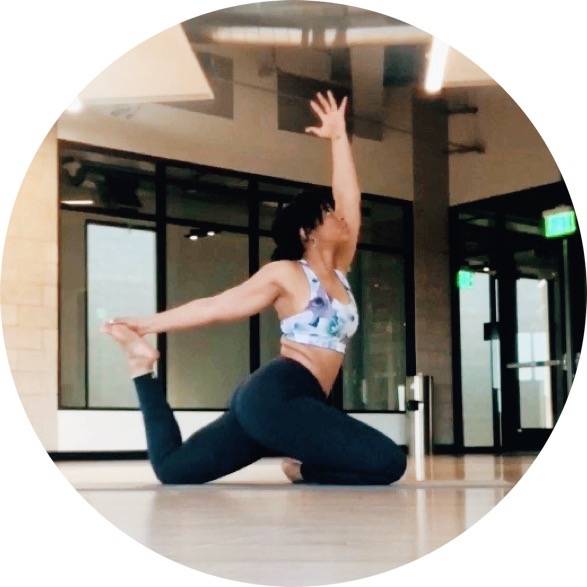 Aysia first experienced yoga in high school and has been in love with it ever since. She finds yoga to be challenging, grounding and up-lifting. Aysia has found undeniable self confidence through yoga and is determined to help her students find confidence within themselves. Aysia is currently a graduate student studying counseling and incorporates trauma informed practices within her classes. She hopes to continue to make an impact in her community by teaching people how to connect with themselves, grow in confidence and heal from trauma.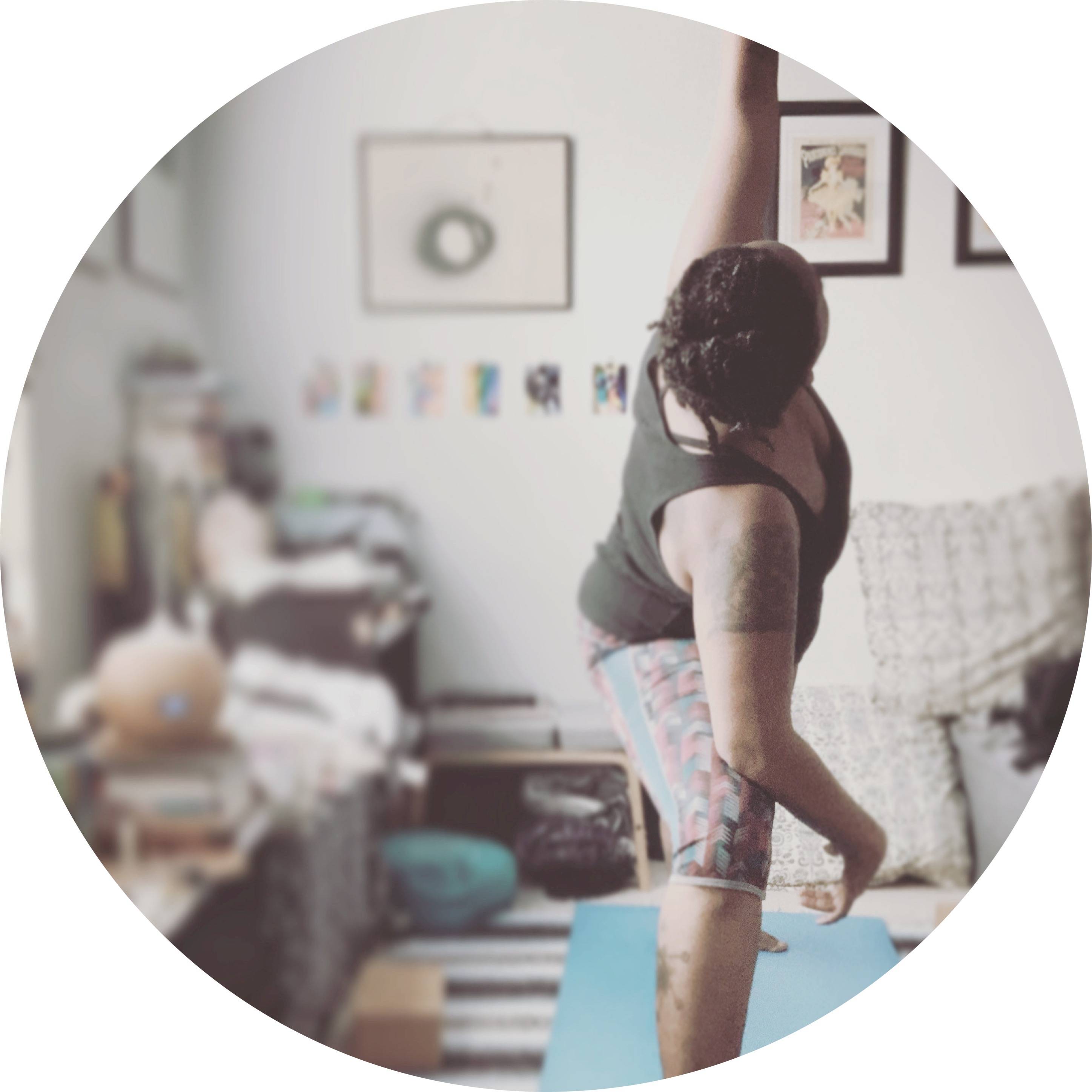 I'm Steph Lindsey, The Black Unicorn. I began practicing yoga in 2000, though it was only in the past 5 years that I cultivated an increasingly devoted practice culminating with the completion of my yoga teacher training in 2017. I believe in a yoga practice that can create spaces of sanctuary and community, which are vital to honoring our mind, body and spirit. I use the spirit of the black unicorn because it symbolizes the strength and power that can lead someone towards achieving their goals. Black unicorn's can overcome barriers and push forward to a desirable, powerfully awesome life. As a black unicorn, I am honored to share a yoga practice that celebrates our own unique experience in our bodies, while helping you release the stresses of daily life, and celebrates the 'magic' in all of us!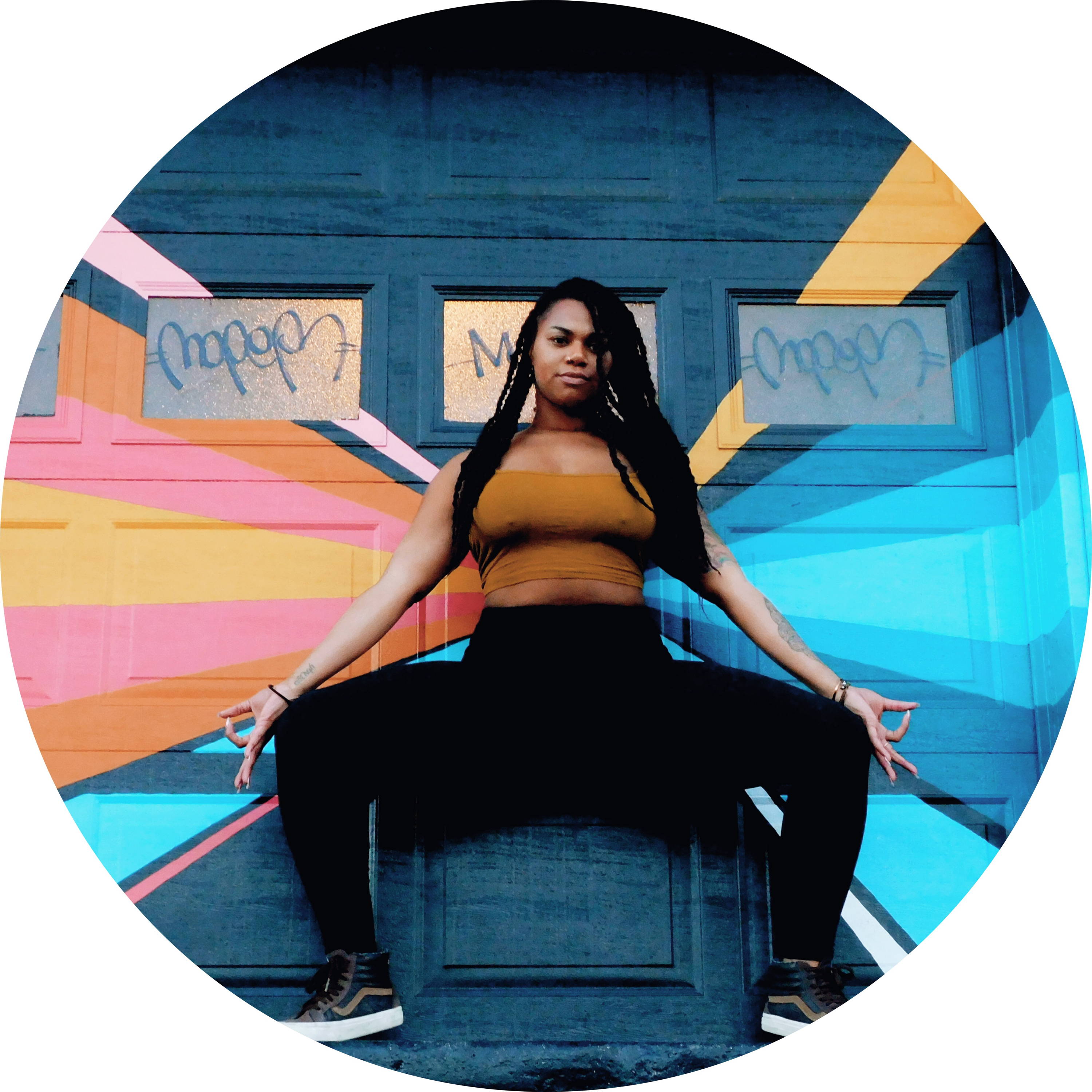 Jalisa considers her yoga practice yoga for your soul. By combining an Erykah Badu-esque neo soul vibe, melanin, and the need for space to love on yourself, Soulflower Denver, Jalisa's community based yoga brand was born.While pursuing her graduate degree in social work , Jalisa had the opportunity to become a certified yoga instructor in 2016. She then began teaching trauma-informed yoga to victims of crime in the city of Denver. As a trained psychotherapist, she combines somatic therapy skills with her passion for yogic thought.Jalisa approaches yoga in a uniquely authentic and human way in hopes to create a "safe space" for clients to indulge in all of the magic they hold.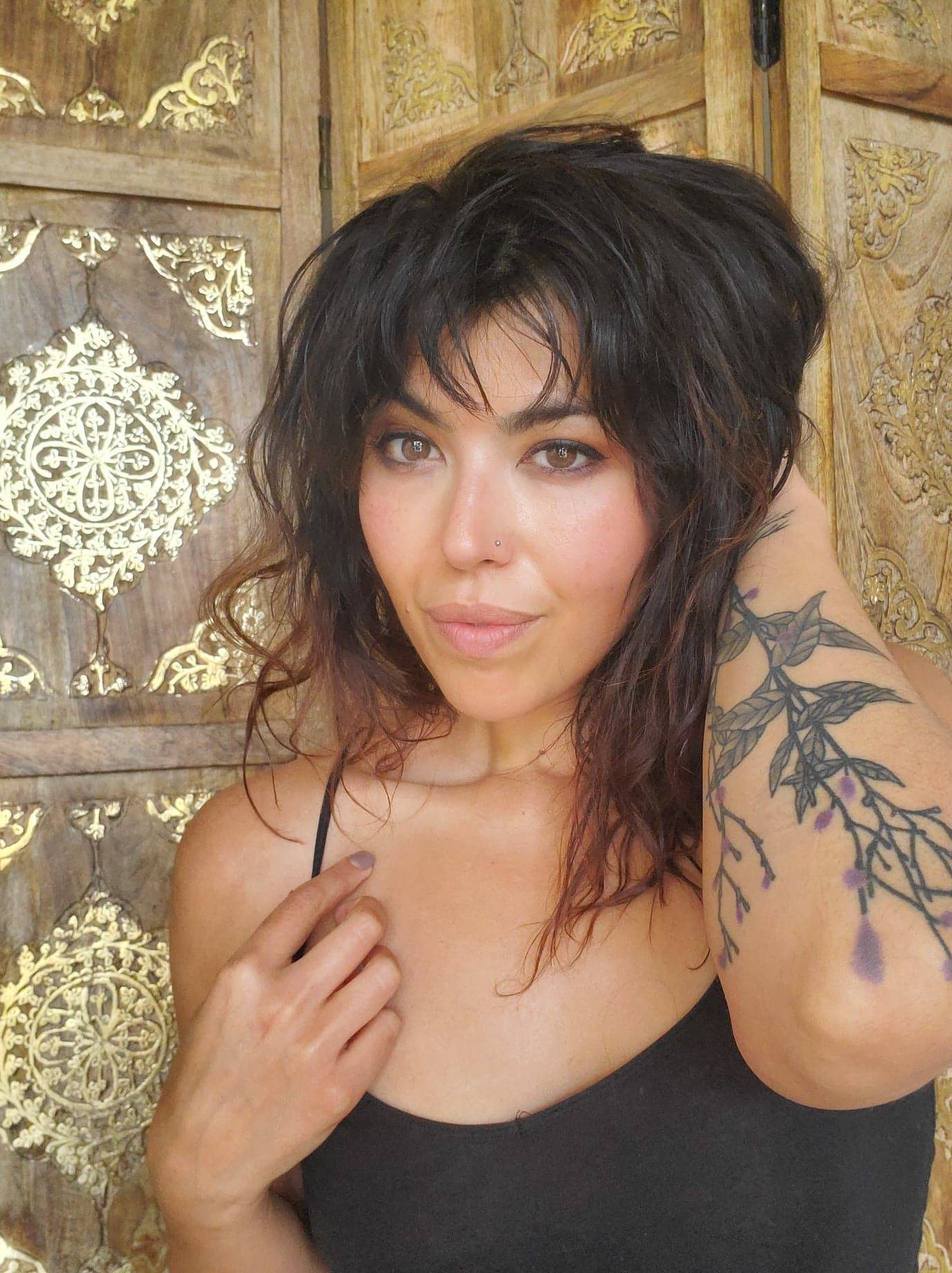 Raquel is a yoga & fitness instructor, energetic bodyworker, & sensuality educator. For the past 9 years, she has created the container for others to ignite their connection with the Self, their Community, and their Relationships through breath, movement, & joyful curiosity. She draws upon her background in medicinal movement, indigenous wisdom traditions, divine feminine & masculine studies, and somatic bodywork to tap into our Highest Potential so that we may collectively transform the World.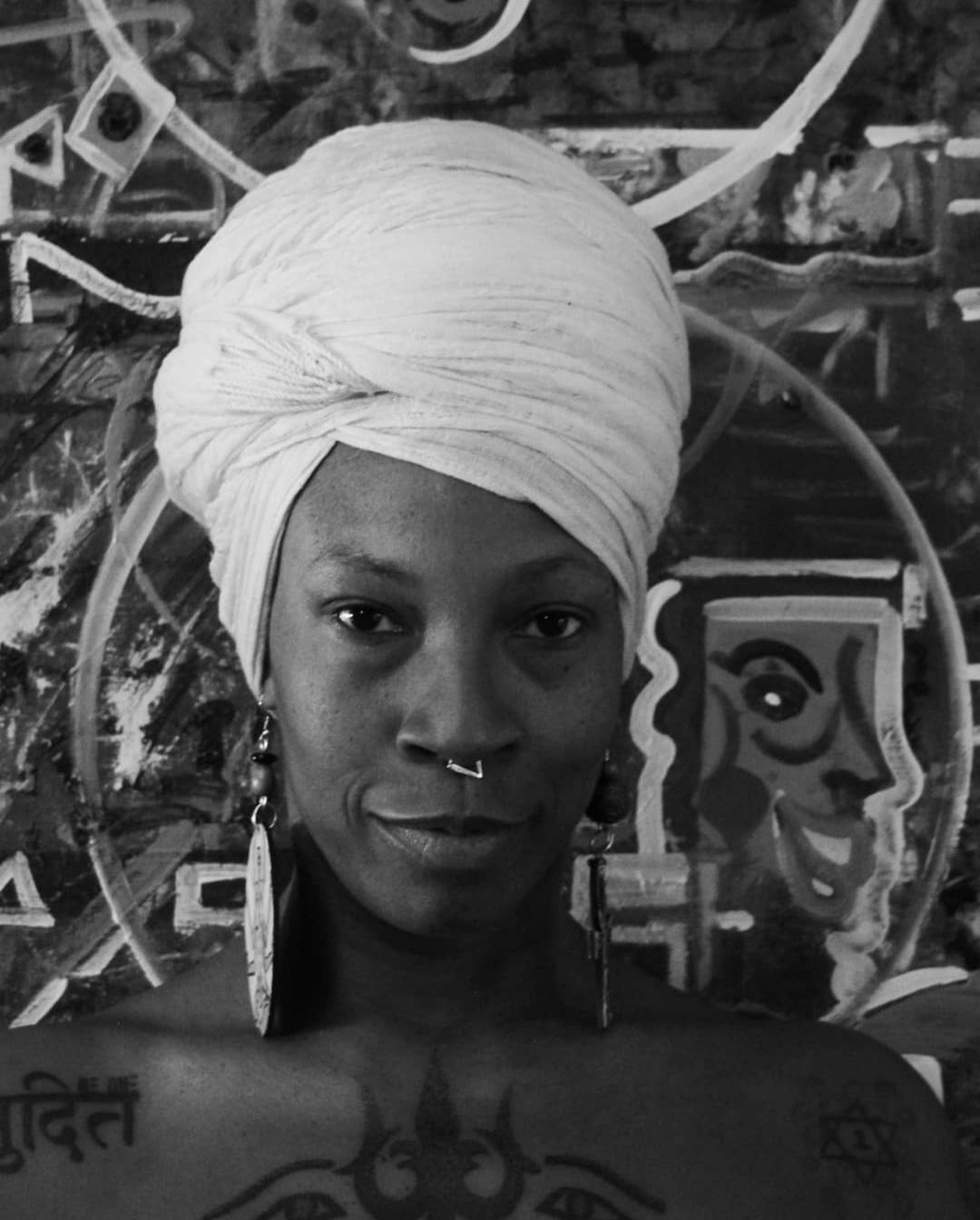 Euda K. Best is a Spiritual Guide, Yoga/Meditation Instructor and Founder of Hella Random Radio, "Where positive energy LIVES." She fell in love with meditation in 2009 certain that the practice cured her of her tendency toward depression. She graduated from and is a member-owner of the nation's first POC owned and operated yoga co-op, The Satya Yoga Cooperative. She believes that we heal the world by healing ourselves. She's playing her part and she's here to help you do the same.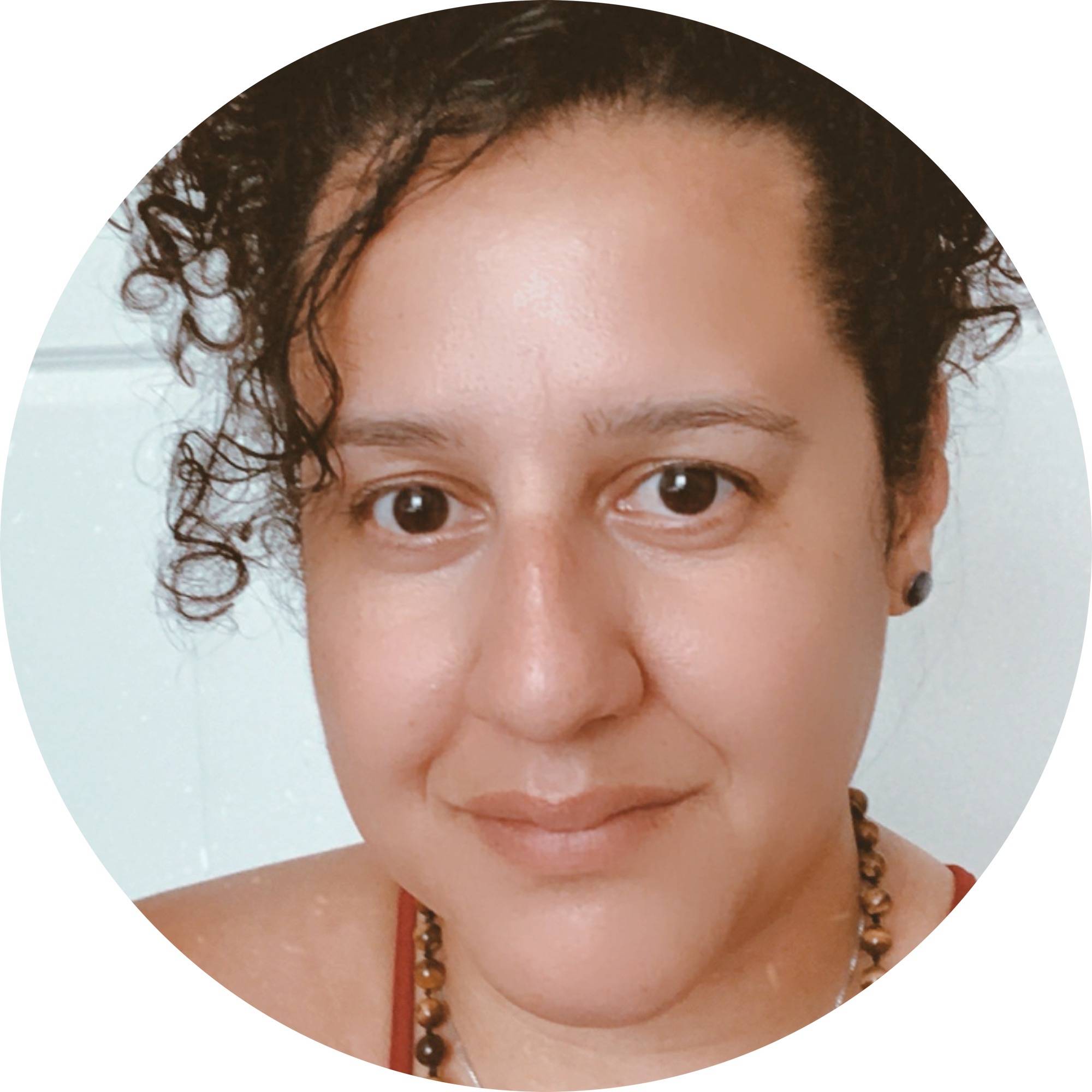 Donnae Wahl is a Denver yoga teacher and writer. She received her 200 hour certification in Vinyasa yoga from Samadhi Yoga in 2017 and has been teaching ever since. Her classes are focused on creating a space for self-love and reflection to help students navigate their every day lives.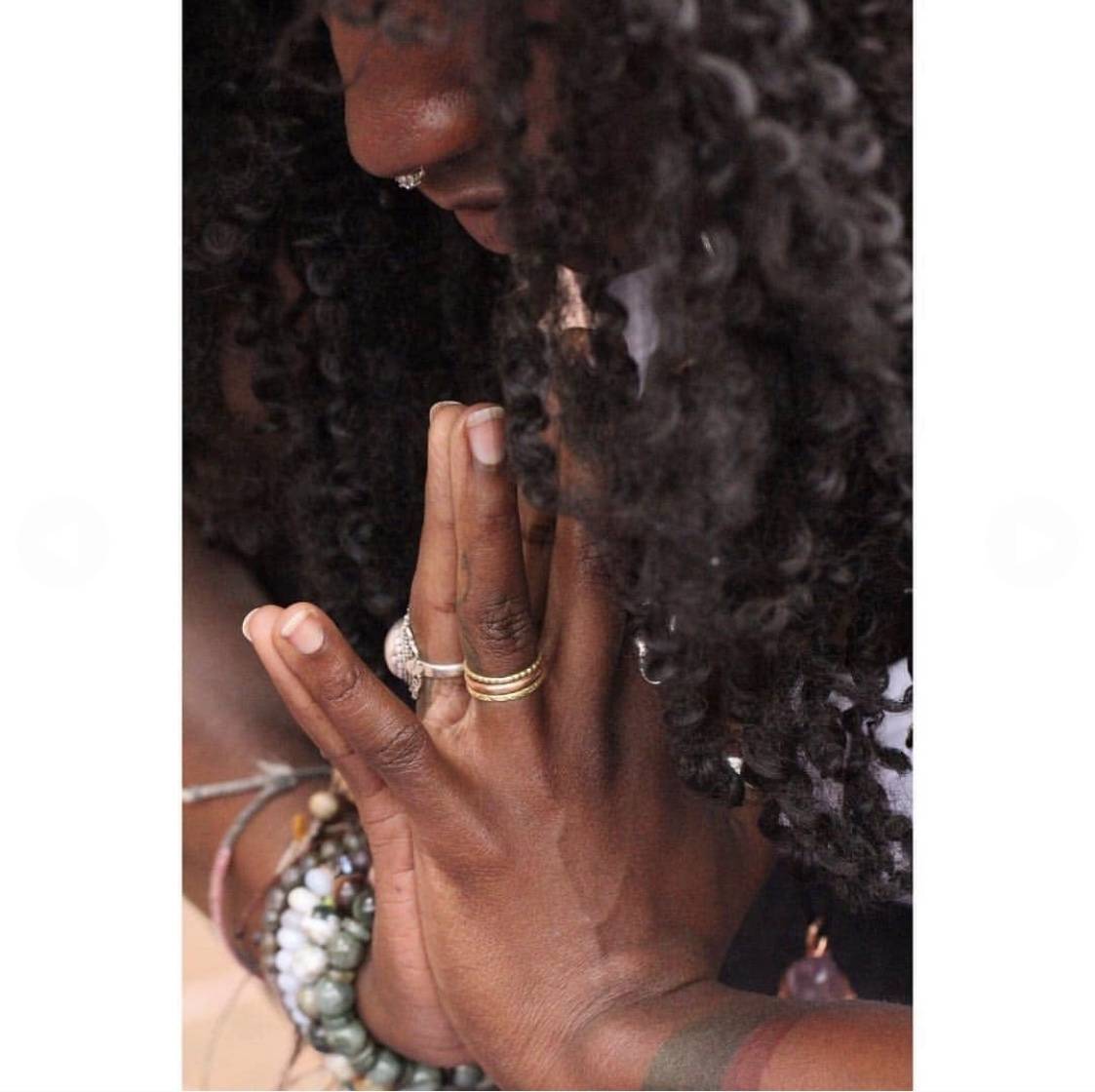 Mona Lisa has been teaching yoga since 2015 and has received over 1,500 hours of additional training.
Since her certification, she has had the privilege to facilitate yoga to thousands of people across 15 countries. Her consistent exposure to a physically and culturally diverse group of humans challenged and inspired her to create balanced, functional classes accessible to ANY body choosing to share her practice. Mona has extensive training and experience with trauma and has worked with victims of sexual assault and domestic violence within the military and civilian sectors.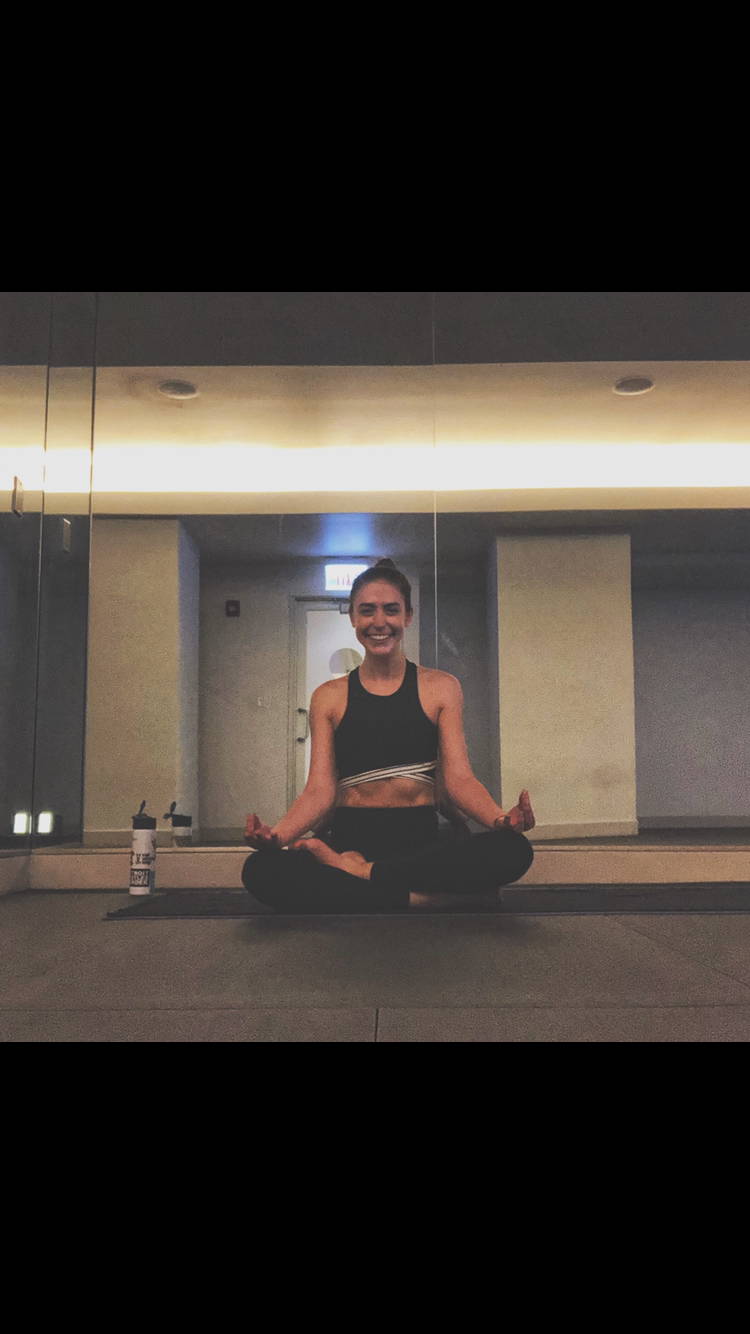 I'm Catherine. I'm a Denver-based certified yoga instructor and practitioner. I am originally from Chicago and a proud dual-citizen of the US and UK. I've practiced yoga on-and-off for the past 10+ years. I began to prioritize the practice in 2018 at a time when I needed a toolkit to help me navigate the peaks and valleys of life the most. It's the holistic approach I've been searching for to help me cope with my anxiety. Yoga gives me permission to slow down and find beauty in the simplest of things. It's a reminder to create space and be grateful for the present moment. It teaches and inspires me to find love in myself, in turn allowing me to bring that love wholeheartedly to others.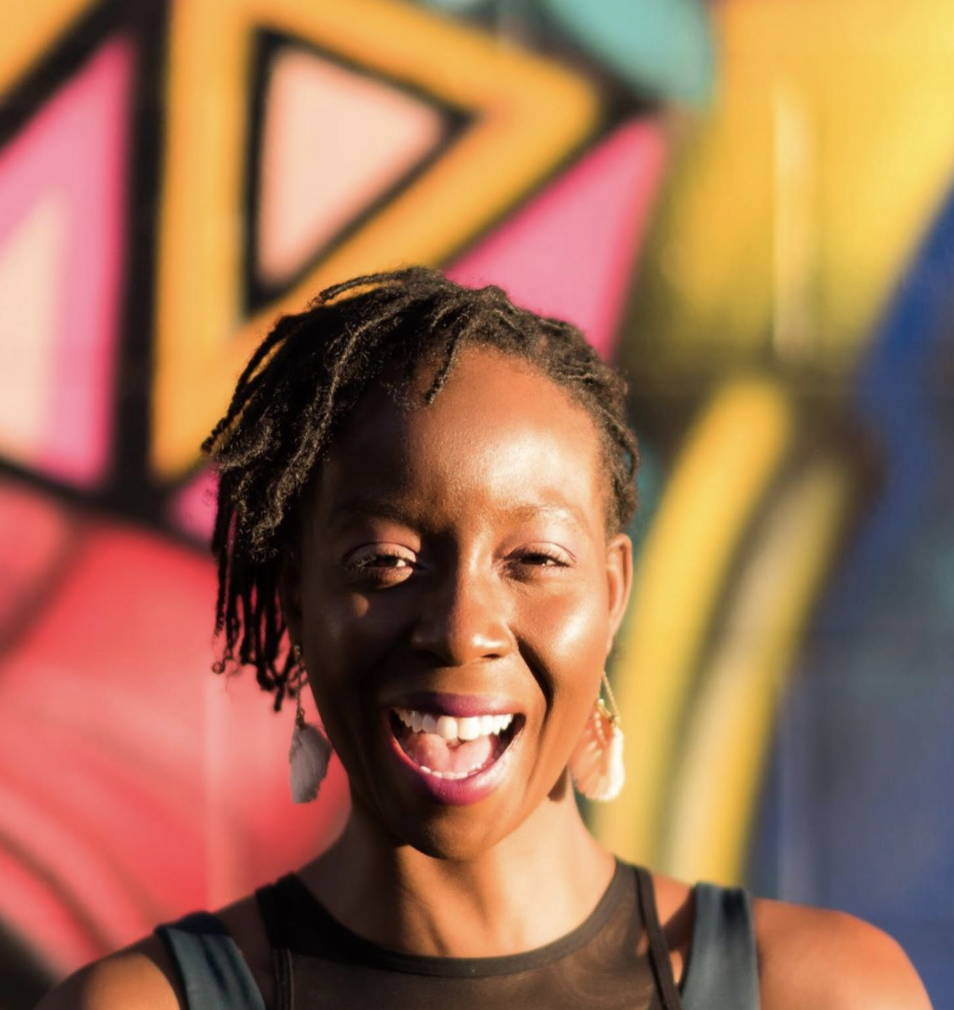 From the age of 16 Lesley Pace has held a deep affinity for yoga and meditation in her life. She began her practice after a sports injury left her with a torn ACL and MCL. From there she continued to utilize yoga as a space of peace through challenging times in college and after. Inspired by the strength and clarity she gained, Lesley chose to delve deeper into her yoga practice by attending a 200-Hour Teacher Training program with Axis Yoga in 2014.
Since that time she has been teaching various styles of yoga throughout the state of Colorado and is continuing to augment her yoga education with more training. Most recently Lesley is in pursuit of her Ayurvedic Wellness Coaching Certification with Shakti School, has attended the Prison Yoga Training with James Fox in Amsterdam, and she also serves as with Chelsea Jackson Roberts, PhD at the Yoga, Literature, Art Camp for teenage girls at Spelman College.
Ultimately, Lesley will be using her practice to spread love, light, and healing to those most in need.